Ethernet Communications Modules support fiber optics.
Press Release Summary: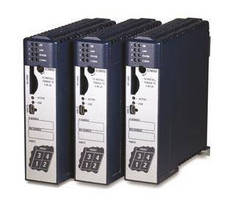 Supporting IEC61850, DNP3, and IEC60870-5-104 Ethernet-based communication protocols, PACSystems RX3i Modules enable access to data and time-stamping of events via object-oriented programming, allowing users to identify root cause of downtime and system disturbances. Modules enable 2-way communication between SCADA and Intelligent Electrical Device levels. By uniting control and software layers under common architecture, information stored in controller becomes accessible and actionable.
---
Original Press Release:

GE's New High Performance Communications Modules Help OEMs Make the Connection for Intelligent Electrical Devices



Integrated solution reduces engineering time and improves time to market



Support for fiber optics allows for more reliable communication and greater transmission distance; simplifies system design

Modular system configuration enables greater access to data and insight into operations to improve productivity and uptime

Standards enable customers to leverage performance benefits



CHARLOTTESVILLE, VA — GE Intelligent Platforms (NYSE: GE) today announced three new PACSystems RX3i modules that provide infrastructure OEMs and systems integrators with communication protocols as "in rack" solutions. The PACSystems family of automation controllers, standardized on the market-leading PROFINET industrial network, provides an extremely high performance, reliable, yet simple to configure and install distributed I/O network.



The Ethernet modules align with a growing industry trend regarding the adoption of Ethernet-based communications and work in environments where downtime is not an option. They enable connection at the device level to the software level of infrastructure organizations using object-oriented programming for greater access to actionable data.



"By replacing proprietary networks with an Ethernet LAN and modern automation systems, industrial companies can improve device-level connectivity, network reliability, simplify deployment and leverage data from their machines to improve operations," said Mark Reitzel, Mission Critical Segment Leader for GE Intelligent Platforms. "Electrical subsystems have a rich heritage of communication standards, and the PACSystems platform now integrates with them."



The three new modules include IEC61850, DNP3, and IEC60870-5-104 Ethernet-based communication protocols, enabling improved access to data and time-stamping of events via object-oriented programming. This allows users to troubleshoot and identify the root cause of downtime and/or system disturbances, and eliminate those disruptors. The new modules enable two-way communication between the SCADA and Intelligent Electrical Device (IED) levels. By uniting the control and software layers under a common architecture, information stored in the controller becomes more accessible and actionable.



An integrated solution enables rack design, reducing engineering time for OEMs and improving time to market. In addition, the support of fiber optics simplifies system design and provides more reliable communication and greater transmission distance, which should prove attractive for customers.



"GE Intelligent Platforms understands the value that today's control systems can bring when open standards are leveraged to connect third-party devices," Reitzel concluded. "And, GE's extensive expertise in large infrastructure projects provides us with unparalleled insight into the challenges of OEMs/SIs in this space. Our continued investment in connecting machines with high performance automation solutions for today's Industrial Internet world is enabling new business models and value added solutions. "



About GE

GE (NYSE: GE) works on things that matter. The best people and the best technologies taking on the toughest challenges. Finding solutions in energy, health and home, transportation and finance. Building, powering, moving and curing the world. Not just imagining. Doing. GE works. For more information, visit the company's website at www.ge.com.



Media contacts:

Elli Holman

GE Intelligent Platforms

Public Relations Director

Phone: +1 508 698 7456

Mobile: +1 508 298 8306

Email: elli.holman@ge.com

More from Packaging Products & Equipment