Ethernet Cards offer bypass capability.
Press Release Summary: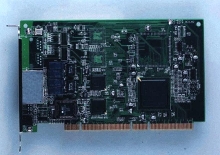 PCI-8214 and PCI-8213 2/4 port Ethernet cards run on 64-bit, 33/66 MHz PCI bus, and are also compatible with 32-bit PCI slots. Bypass capability is designed for network monitoring and control. When system crashes, unexpected power-down, or on-board watchdog timer has timed out, on-board relays will cross-link channel 1 and 2. Fail-safe data transmission is achieved by linking inbound and outbound network even when hardware or software fails.
---
Original Press Release:
ADLINK Announces 2 and 4 Port Fast Ethernet Cards with Bypass Capability
- Providing Fail-Safe Ethernet Traffic Flow Even When All Else Fails - Irvine, CA (July 2, 2002) - ADLINK TECHNOLOGY INC., the leading supplier of open-platform PC based measurement and automation equipment, today introduced PCI-8214 and PCI-8213, 2/4 port 64-bit fast Ethernet cards with bypass capability. Suitable for firewall, network traffic monitoring, online gaming, high availability, and applications requiring "always on" Internet traffic flow. The major function of these two new cards is the bypass capability, which is designed for network monitoring and control. When the system crashes, unexpected power-down, or the on-board watchdog timer has timed-out, the on-board relays will cross-link channel #1 and #2. Fail-safe data transmission is achieved by linking inbound and outbound network even when the hardware or the software fails. This bypass capability is especially vital for e-commerce and CRM applications where smooth Internet accessibility plays a critical role. Applications requiring load sharing as the priority, 4-port version is recommended. PCI-8213 and PCI-8214 both run on 64-bit, 33/66 MHz PCI bus, but are also compatible with 32-bit PCI slots. Moreover, state-of-the art Intel 82559 chip was integrated to ensure product longevity and interoperability among multiple OS, in addition to providing a network management service kit. The cards also supports Intel pre-boot execution environment (PXE) for remote boot. Each Ethernet port is equipped with two self-diagnostic LED to show the link status and the 10/100 status. Specifications are available at: www.adlinktech.com/products/LonglifeEmbedded/PCI-8213.htm About ADLINK TECHNOLOGY INC. ADLINK TECHNOLOGY INC. is a leading manufacturer of high-performance, high-quality PC based add-on cards for tests, measurement, automation and process control industries. ADLINK is also quickly emerging as a leader in industrial computing products, with innovative Passive Backplane and CompactPCI platforms. ADLINK products are marketed globally through direct sales offices for OEM/ODM customers and an extensive network of worldwide sales channels. The company has over 50% of its employees in research and development in the following product groups: - Automation: Motion controllers in PCI/CPCI form factors and open I/O systems technology for high-speed real-time control applications. - Test And Measurement: NuDAQ Series of ISA/PCI/cPCI Data Acquisition and communication I/O cards, NuDAM series of remote Data Acquisition Modules and DAQBench 32-Bit Active X Controls for Visual Programming and control. - Computer And Communication: CompactPCI and PXI computing platforms in both 3U and 6U form factors and NuPRO series of PICMG Single Board Computers in Half and Full size versions. Media Contact: Jim Lin 949-727-2077 x105 jim.lin@adlinktechnology.com Sales Contact Alan Wells 949-727-2099 x104 awells@adlinktechnology.com
More from Machinery & Machining Tools