EtherCAT Network Controller supports up to 32 axes of motion.
Press Release Summary: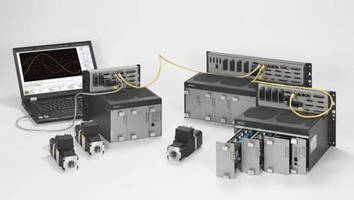 Model MC4Unt controls up to 32 axes of motion, which are fully synchronized to 20 kHz sampling and servo update rate with maximum synchronization dither of 100 nsec. It also allows integration of up to 8 axes into single network node. Servo algorithms such as true gantry with decoupling of center of gravity and yaw, Cartesian cross-axis compensation, and adaptive multiaxis control are enabled. ACSPL+ motion programming language runs on MC4Unt for users to develop applications.
---
Original Press Release:

ACS Motion Control Develops EtherCAT Networked Solution to Control up to 32 Axes of Motion, Fully Synchronized to within 100 Nanoseconds



EDEN PRARIE, MN - ACS Motion Control, an international manufacturer of advanced multi-axis motion and machine controllers, has developed a unique real-time networking technology based on the EtherCAT protocol that connects multiple MC4U units to increase the fully coordinated machine control axis count from eight to 32. Designated the MC4Unt, this network is a fully integrated system that controls up to 32 fully synchronized axes of motion, including a wide range of amplifiers and corresponding power supplies (100-10,000W; 24-560Vdc) with the ability to add hundreds of I/Os. Axes controlled by the MC4Unt system are fully synchronized to a single 20kHz sampling and servo update rate with a maximum synchronization dither of 100 nanoseconds.

The capabilities of the MC4Unt system can also be expanded using the ACS SPiiPlus UDMnt single/dual axis network Universal Drive Module, the SPiiPlus PDMnt four axis network Pulse/Direction Interface Module and the SPiiPlus IOMnt Input Output Module for adding nodes of additional axes and I/Os.

Unlike other EtherCAT network control approaches, the MC4Unt allows the user to integrate several axes (up to 8) into single network nodes, improving performance and reducing cost. In the MC4Unt networked system, one MC4U unit acts as a master and controls all the axes including those of the slave MC4Us, other network drives, and EtherCAT nodes. The host computer only communicates with the master unit and the master MC4U internal SPiiPlus motion controller generates the motion profile for all the axes. The SPiiPlus MMI with all its monitoring, programming and setup capabilities is used to support all the axes of the network.

"Our new real-time MC4Unt networked motion control system is optimized for complex machine control and supports high density of axes with superior performance by coordinating up to 32 axes of motion with one master controller," said Jason Goerges, sales and support manger at ACS Motion Control. "Compare this to a typical network based control solution that requires costly intelligence at the controller for motion programs, profile generation and user interfacing as well as at each drive node for servo loops, commutation, additional user interfacing. In addition, drive nodes on other networks do not generally have real-time access to servo information of one another, severely limiting multi-axis performance in the most demanding applications."

The MC4Unt network system also enables the most advanced servo algorithms such as true gantry with decoupling of center of gravity and yaw, Cartesian cross axis compensation, and adaptive multi-axis control, which often requires access to servo data of multiple axes instantaneously.

ACS' dedicated motion programming language (ACSPL+) that runs on the MC4Unt controllers provides a simple environment for users to program motion. Some of the standard motions available include 3rd order vector point to point moves (one to eight axis), multi-dimensional geometric shapes, electronic multi-axis camming, non-Cartesian kinematic structures (hexapod, delta robots, SCARA robots), complex multidimensional paths and splines, multi-axis master/slave and much more. In addition, ACS' standard software package features a full 32-axis motion controller simulator that allows users to develop application code and a host front end, all from the PC without hardware.

Applications involving demanding requirements for multi-axis motion coordination and servo control, as well as high speed PLC functionality can benefit from the integrated MC4Unt network system. Some applications where the MC4Unt can successfully improve performance and throughput include large format gantry inspection systems (flat panel display, solar, Inkjet, Web handling), small to large scale imaging machines (nuclear, magnetic, interferometric, and ultrasonic), semiconductor and PCB assembly (printed circuit boards, wire-bonding, wire-EDM, pick and place robots), biomedical laboratory stations (DNA handling/sequencing, surface patterning, molecular printing) and general industrial automation (load-cell testers, food packaging, document sorters, etc.)

For more information about the MC4U fully integrated machine control solution, contact ACS at 6575 City West Parkway, Eden Prairie, MN 55344; call 763-559-7669 ext.131; e-mail jasong@acsmotioncontrol.com; or go to www.acsmotioncontrol.com.

About ACS Motion Control

An international manufacturer of advanced multi-axis motion controllers, machine controllers and integrated control modules, ACS provides standard and custom products that combine power and precision to deliver flexible, economical, user-friendly motion and machine control solutions. Established in 1985, ACS' international headquarters is located in Israel and its North American headquarters resides in Eden Prairie, MN. ACS also has facilities in South Korea, Germany, and distributors worldwide that deliver dependable customer service and product support. ACS is an ISO9001 certified manufacturing facility, demonstrating its continuous commitment to providing customers with reliable devices that are thoroughly tested with the latest available techniques.

More from Architectural & Civil Engineering Products