ESPRIT 2011 at JIMTOF Oct. 28-Nov. 2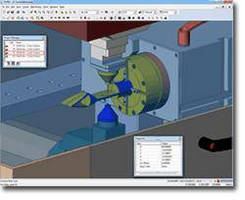 Created by DP Technology, a leader in the industry of computer-aided-manufacturing (CAM), ESPRIT® 2011 will be exhibited Oct. 28 through Nov. 2 at the 25th Japan International Machine Tool Fair, or JIMTOF.

JIMTOF is designed to contribute to the evolution of the machining industry and trade promotion via international communication and collaboration, as well as the exchange of machine tools and related equipment.

Visitors to JIMTOF are encouraged to visit the ESPRIT booth, where friendly and knowledgeable representatives of DP will be available to discuss vital upgrades and perform demonstrations of how to best make those upgrades work for them.

Featuring system-wide upgrades that are of benefit to all programmers, ESPRIT 2011 includes new, innovative, productivity-enhancing technology for CNC programmers of mills, lathes and wire EDM machines.

More from Computer Hardware & Peripherals