ESD Suppressors protect electronics from up to 30 kV discharges.
Press Release Summary: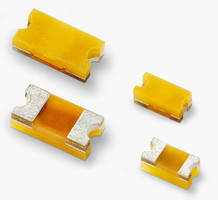 Available in 0402- and 0603-sized, flat-topped, SMT packages respectively suited for applications up to 24 and 32 Vdc, XGD Series XTREME-GUARD™ ESD Suppressor protects sensitive electronics against ESD to 30 kV. Design enables safe absorption of repetitive ESD strikes of near 4X max level specified in IEC61000-4-2 without performance degradation. After multiple ESD strikes, current leakage of <1 nA minimizes power consumption. Capacitance is 0.04 pF for XGD10402 and 0.09 pF for XGD10603.
---
Original Press Release:

New ESD Suppressor Series from Littelfuse Protects Sensitive Electronics from Damaging Discharges up to 30kV



Absorbs repetitive ESD strikes nearly 4x higher than standards require without performance degradation



CHICAGO — Littelfuse, Inc., the global leader in circuit protection, has introduced the XGD Series XTREME-GUARD™ ESD Suppressor, available in 0402- and 0603-sized, flat-topped surface mount packages. Based on breakthrough ESD technology, it protects sensitive electronics against electrostatic discharges as high as 30kV and is suitable for high voltage applications up to 32VDC. When correctly integrated into a circuit design, the XGD Series can safely absorb repetitive ESD strikes nearly four times the maximum level specified in the IEC61000-4-2 international standard without performance degradation. Extremely low capacitance makes the XGD Series suitable for use in high-frequency and high-speed data, video, antenna and I/O circuits. Even after multiple ESD strikes, it exhibits ultra-low current leakage (<1nA), ensuring minimal power losses, so it's well-suited for protecting battery-powered electronics like wearables. Both sizes offer much higher voltage ratings than other ESD suppressors with similar board footprints; they also offer far greater ESD protection than many TVS Diodes while providing much lower capacitance and leakage current and higher voltage ratings.



Applications can be found in the industrial, consumer electronics, telecom/datacom, and white goods/home appliances markets.



"XGD Series XTREME-GUARD™ ESD Suppressors are designed for high-frequency, high-speed applications that demand high voltage ratings and extreme ESD protection," said Johnny Chang, global product manager for the XGD Series line. "At the same time, they are ideal for general-purpose ESD protection in wearable technology, smart TVs, smartphones, tablets, set-top boxes, gaming consoles, stationary and portable medical devices, etc."



XGD Series ESD Suppressors offer these key benefits:



Their high ESD withstand rating provides a greater level of ESD protection and design flexibility for enclosures, buttons and touchscreens.



Their high voltage ratings (24VDC for the XGD10402, 32VDC for the XGD10603) offer wider voltage ranges for a broader variety of electronic devices.



XGD Series devices have less than one nano-amp of leakage current, reducing power consumption, so they're well suited for use in battery-powered devices.



Their ultra-low capacitance (0.04pF for XGD10402, 0.09pF for XGD10603) is ideal for use in high-frequency and high-speed data, video, antenna and I/O circuits.



Their flat top and surface mount form factor simplifies pick-and-place assembly and allows for more compact circuit board designs.



Availability

The XGD10402 Series is packaged in a 0402 surface mount package and is provided in tape & reel form in quantities of 10,000. The XGD10603 Series is packaged in a 0603 surface package and is provided in tape & reel form in quantities of either 1,000 or 5,000. Sample requests can be placed through authorized Littelfuse distributors worldwide. For a listing of Littelfuse distributors, please visit Littelfuse.com.



For More Information

Additional information is available on the XGD Series product page. If you have technical questions, please contact: Johnny Chang, Global Product Manager, XGD Series line, jchang@littelfuse.com.



About Littelfuse

Founded in 1927, Littelfuse is the world leader in circuit protection with growing global platforms in power control and sensing. The company serves global customers in the electronics, automotive and industrial markets with technologies including fuses, semiconductors, polymers, ceramics, relays and sensors. Littelfuse has over 8,000 employees in more than 35 locations throughout the Americas, Europe and Asia. For more information, please visit the Littelfuse website: littelfuse.com.

More from Agricultural & Farming Products