ESD Suppressor suits IEEE 1394 and dual USB 2.0 protocols.
Press Release Summary: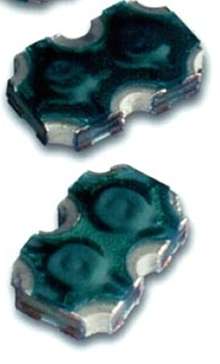 PulseGuard® PGB Series 0805 Surface Mount ESD Suppressor features low capacitance of 0.055 pF and ESD event response time of less than 1 ns, ensuring ESD protection without waveform distortion. Four-channel component is capable of clamping direct-contact pulses of 8 kV of ESD energy. Leakage current is less than 1 nanoamp. Polymer-based suppressor comes in glass epoxy package and is compatible with pick-and-place processes.
---
Original Press Release:
Ultra Low Capacitance, Four Channel ESD Suppressor Announced for Next Generation High Speed Buses

DES PLAINES, Illinois, September 4, 2002 - In response to the need for very low intrusion ESD protection of high data rate serial buses like USB 2.0, IEEE 1394 and InfiniBand(SM), Littelfuse, Inc. (NASDAQ/NMS:LFUS) is introducing the PulseGuard® PGB Series 0805 Surface Mount ESD Suppressor. With a capacitance of only 0.055 picofarads and an ESD event response time of less than one nanosecond, the PGB 0805 ensures the highest level of ESD protection without waveform distortion. The PGB 0805 is designed to minimize board space consumption and reduce inventory and assembly costs. The four-channel 0805-packaged component is capable of clamping direct contact pulses of 8kV of ESD energy. Additionally, the PGB 0805 has a leakage current of less than 1 nanoamp. Expected applications are network upstream and downstream interface circuits in servers, laptop/desktops, network devices, peripherals, digital cameras, and external storage. The device is compatible with new, lead-free manufacturing processes.

Manufacturers that utilize the IEEE 1394 or dual USB 2.0 data protocols can save money and board space by designing-in the 4-line 0805 PGB series device to protect all signal lines. Designers who have traditionally relied on only the on-chip ESD protection in critical IC's will benefit from often triple the protection levels, and virtually no impact on their circuit capacitance "budget." Purchasing and warranty/reliability engineers will benefit from a reduction in warranty costs associated with the effects of ESD.

The polymer-based PGB Series can provide effective ESD protection against fast rise-time ESD transients such as those specified in IEC 61000-4-2 and MIL-STD-883E. Its glass epoxy package is compatible with current pick-and-place processes. The PGB series is electrically bipolar, allowing the system voltage bus to also be used as the ESD discharge path. The four-line component design is optimal for designs requiring multiple data-lines. (For example, IEEE1394 uses four high-speed data lines, so only one PGB 0805 would be necessary to protect all four data lines.) If overcurrent protection is needed, the PGB series can be mated with either the Littelfuse 1206L series resettable PTC, which is available in ratings up to 1.5A. (The amperage rating and number of devices used will vary depending on the design configuration implemented.)

The PGB series is available in tape-reel packaging. Pricing is $.62 for 10,000 piece quantities. Additional electrical parameters and performance characteristics are available via the datasheet at www.littelfuse.com. Customers can obtain more information or receive samples by contacting a Littelfuse application engineer via phone at (800) 999-9445 / (847) 824-1188, or fax (847) 391-0459.

Littelfuse is a global company offering the broadest line of circuit protection products in the industry. In addition to its Des Plaines, Illinois, world headquarters, Littelfuse has manufacturing facilities in England, Ireland, Switzerland, Mexico, Korea, China and the Philippines, as well as in Centralia, Des Plaines and Arcola, Illinois. It also has sales, engineering or distribution facilities in the Netherlands, Singapore, Hong Kong, Taiwan, Japan, Brazil, and Melbourne, Florida. For more information, please visit Littelfuse's Web site at www.littelfuse.com.

More from Machinery & Machining Tools