ESD Suppressor also has EMI/RFI filtering.
Press Release Summary: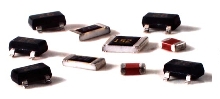 SPUSB1 provides upstream USB port protection. Device combines ESD protection up to 30 kV, EMI/RFI filtering, and termination into SC70 six lead package. Able to protect upstream circuit elements such as USB controllers, it replaces 10 discrete devices required for same functions. Suppressor provides ESD protection for all data lines as tested under MIL-STD-883D specification. It also offers 15 kV direct discharge protection per IEC 61000-4-2.
---
Original Press Release:
New "Three-In-One" USB1.1 ESD Suppressing, EMI/RFI Filtering Bus Terminator Offers Higher Protection Levels In Cost-Saving Miniature Package

DES PLAINES, Illinois, May 29, 2002 - Littelfuse, Inc. (NASDAQ/NMS:LFUS) today announced the introduction of the SPUSB1 upstream USB 1.1 port protection network. The device combines ESD protection (up to 30kV), EMI/RFI filtering and termination of into an ultra small SC70 six lead package. By upgrading to the SPUSB1, manufacturers of "upstream" USB devices such as PDA's, digital cameras, scanners and hubs are expected to benefit from lower field failures as well as board space reduction, and assembly/inventory cost savings. The SPUSB1 will replace a minimum of ten typically larger and more expensive "discrete" devices now required for the functions it performs in one integrated package.

The SPUSB1 replaces components used to protect upstream circuit elements such as USB controllers. The SPUSB1 series offers designers a choice of 12, 22 or 33ohm series resistance values tailored to match the USB controller resistance and cable impedance. The SPUSB1 provides 30kV of ESD protection for all data lines (D+, D- and VBUS) as tested under the MIL-STD-883D specification for Human Body Model. In addition, the device offers 15kV direct discharge protection per IEC 61000-4-2.

For EMI/RFI protection, the SPUSB1 incorporates a low band pass filter that attenuates electromagnetic energy in accordance with the USB 1.1 specification. (Filter response curves are available upon request.) In addition, if overcurrent protection is needed, Littelfuse recommends the 1206L series resettable PTC, which is available in ratings up to l.5A. (The amp rating and number of devices used will vary depending on the design configuration implemented.) The SPUSB1's miniature SC70 package provides up to a 40% size reduction over SOT23-based (and other often more cumbersome) circuit protection, termination and filtering methods such as avalanche style diode arrays and RC combinations.

The SPUSB1 series is available in tape-reel packaging. Pricing for the SPUSB1AJT, SPUSB1BJT and SPUSB1CJT models are $0.28 for 10,000 piece quantities. Additional electrical parameters and performance characteristics are available via the datasheet at www.littelfuse.com. Customers can obtain more information or receive samples by contacting a Littelfuse application engineer via phone at (800) 999-9445, or fax (847) 391-0459.

Littelfuse is a global company offering the broadest line of circuit protection products in the industry. In addition to its Des Plaines, Illinois, world headquarters, Littelfuse has manufacturing facilities in England, Ireland, Switzerland, Mexico, Korea, China and the Philippines, as well as in Centralia, Des Plaines and Arcola, Illinois. It also has sales, engineering or distribution facilities in the Netherlands, Singapore, Hong Kong, Taiwan, Japan, Brazil, and Melbourne, Florida. For more information, please visit Littelfuse's Web site at www.littelfuse.com.
More from Laboratory and Research Supplies and Equipment