ESD Protection Diode protects high-speed interfaces.
Press Release Summary: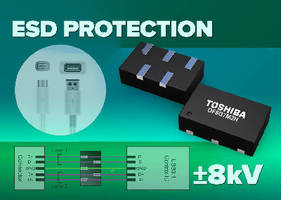 Built to protect equipment attached to communication lines, Model DF5G7M2N shields high-speed interfaces such as USB3.1, HDMI®, DisplayPort™, and Thunderbolt™ from static electricity. Device can also protect small portable devices such as smartphones and tablets from ESD events. Housed in 1.3 x 0.8 mm DFN5 package, diode realizes low capacitance of 0.2 pF by optimizing process, suppressing signal quality deterioration, and providing ESD resistance.
---
Original Press Release:

Toshiba Introduces New ESD Protection Diode





Protects High-Speed Interfaces from Static Electricity



IRVINE, Calif., – Toshiba America Electronic Components, Inc. (TAEC)*, a committed leader that collaborates with technology companies to create breakthrough designs, today announced the introduction of a new ESD (electrostatic discharge) protection diode - the DF5G7M2N.  Built to protect equipment attached to communication lines, the DF5G7M2N shields high-speed interfaces such as USB3.1, HDMI®, DisplayPort™ and Thunderbolt™ from static electricity.  It can also be used to protect small portable devices such as smartphones and tablets from ESD events.



Housed in a DFN5 package that reduces its footprint to less than 50 percent of that of similar products([) (1) (), the DF5G7M2N simplifies wiring design, making it suitable for high density mounting.  Additionally, Toshiba's new ESD diode realizes low capacitance and low dynamic resistance by optimizing the process, suppressing signal quality deterioration and providing high ESD resistance.



"Static electricity on high speed data lines can cause numerous problems, including effecting quality and reliability," noted Talayeh Saderi, senior business development manager for TAEC.  "Our new ESD diode helps to provide stable operation and reliability for these voltage-sensitive lines."



Features:

--  Low capacitance and low dynamic resistance (CT=0.2 pF , RDYN=1  )

--  Suppresses deterioration in signal quality (insertion loss) by lowering capacitance  (|S21|(2)  = -1.3 dB @f=10 GHz)

--  Electrostatic discharge immunity tests IEC61000-4-2(Contact discharge): Over ±8 kV

--  DFN5 package (1.3x0.8 mm)

--  Bidirectional 4 line multi-bit (a flow-through type)



Main Specifications:







Part number



VRWM max (V)



VBR min @ IBR=1mA (V)



IR max @ VRWM=5.5 V (µA)



CT typ. @ VR=0V, f=1Mhz (pF)



RDYN typ. @ TLP evaluation(Ω)



Package
 





DF5G7M2N



5.5



6.0



0.05



0.2



1



DFN5







Pricing and Availability



Toshiba's new ESD diode is available now, with budgetary pricing estimated at $0.06. Please contact your local Toshiba Sales Office for samples.



*About Toshiba Corp. and TAEC



About TAEC

Through proven commitment, lasting relationships and advanced, reliable electronic components, Toshiba enables its customers to create market-leading designs. Toshiba is the heartbeat within product breakthroughs from OEMs, ODMs, CMs, VARs, distributors and fabless chip companies worldwide.  A committed electronic components leader, Toshiba designs and manufactures high-quality flash memory-based storage solutions, solid state drives (SSDs), hard disk drives (HDDs), solid state hybrid drives (SSHDs), discrete devices, custom SoCs/ASICs, imaging products, microcontrollers, wireless components, mobile peripheral devices, advanced materials and medical tubes that make possible today's leading smartphones, tablets, cameras, medical devices, automotive electronics, industrial applications, enterprise solutions and more.



Toshiba America Electronic Components, Inc. is an independent operating company owned by Toshiba America, Inc., a subsidiary of Toshiba Corporation, Japan's largest semiconductor manufacturer and the world's sixth largest semiconductor manufacturer (Gartner, 2013 Worldwide Semiconductor Revenue, April 2014).  Founded in Tokyo in 1875, Toshiba is at the heart of a global network of over 590 consolidated companies employing over 200,000 people worldwide.  Visit Toshiba's web site at www.toshiba.co.jp/index.htm.



For additional company and product information, please visit http://www.toshiba.com/taec/.



Notes:

([) (1) () Comparison with DF10G7M1N (DFN10: 2.5×1.0 mm, 4bit)



HDMI® is a registered trademark of HDMI Licensing, LLC in the U.S. and other jurisdictions



DisplayPort™ is a trademark of Video Electronics Standards Association in the United States and/or other countries



Thunderbolt™ is a trademark of Intel Corporation in the United States and/or other countries



© 2014 Toshiba America Electronic Components, Inc. All rights reserved.



Information in this press release, including product pricing and specifications, content of services and contact information, is current and believed to be accurate on the date of the announcement, but is subject to change without prior notice.  Technical and application information contained here is subject to the most recent applicable Toshiba product specifications.



CONTACT:

Rebecca Bueno

Toshiba America Electronic Components, Inc.

(949) 462-7885

rebecca.bueno@taec.toshiba.com

More from Fluid & Gas Flow Equipment