ESD Flooring is environmentally responsible and grounded.
Press Release Summary: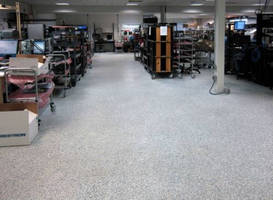 Installed without adhesives, copper foil, underlayments, or padding, StaticStop conductive, connected, and grounded™ interlocking ESD flooring tiles do not carry any disclaimers for high-moisture, irregular, or problem subfloors. Static control flooring system is manufactured with 20% min recycled materials and can contribute to LEED™ points. At 7.94 mm, dense tiles have built-in underlayment and can be used in range of static control environments.
---
Original Press Release:

Green and Grounded. SelecTech Inc. Unveils New Improved ESD Flooring



AVON, Mass. -- SelecTech, Inc., a leader in the manufacture of innovative flooring products from recycled materials, has recently announced their new and improved StaticStop interlocking ESD flooring.



StaticStop ESD flooring tiles are the only ESD products available that have no disclaimersfor high-moisture, irregular and problem subfloors.  It is the first and only static control flooring system that is "conductive, connected and grounded"(TM).



SelecTech's unique and innovative interlocking flooring solution is now even easier to install and does not require messy adhesives, copper foil, underlayments or padding.  StaticStop ESD flooring provides a simplified and convenient installation process that translates into less down time for facilities, which further translates into reduced costs and an improved bottom line.



StaticStop ESD flooring is manufactured with a minimum of 20 percent recycled materials, and it is the only conductive flooring of its kind that can contribute to LEED(TM) points.



"Our StaticStop interlocking ESD floor tiles are more robust and even simpler to install, resulting in a beautiful, seamless finish.  Benefits to the customer are high quality, overall savings and the fact that it's a green product.  Our StaticStop ESD tiles are the densest at 7.94mm when compared to our competitor's 5mm and ours have a built-in underlayment, which is key for a reliable, stable and durable installation," explained Thomas Ricciardelli, the company's president.



StaticStop ESD flooring is versatile enough for a variety of static control environments from electronic manufacturing environments to mission critical environments such as Server Rooms and Data Centers; Federal and State Government Operation Centers and PBX, HUB and Call Centers.  It is ideal for retailers, commercial buildings, government buildings, food service providers, schools and more.  Companies that utilize SelecTech's StaticStop ESD flooring include GlaxoSmithKline, T-Mobile, Boeing, USPS, Dell, Crestron Electronics, Volvo and the Federal Aviation Administration.



Additionally, a visual such as a company logo or a general pattern from SelecTech's stock image collection may be printed on StaticStop ESD flooring.



"To give you an example, we cater to a number of retailers that require a logo or pattern on StaticStop ESD flooring and use it in various merchandising areas.  It's also perfect for franchise renovations," noted Ricciardelli.



To learn more about SelecTech's StaticStop ESD flooring, visit www.staticstop.com.



About SelecTech, Inc.

StaticStop ESD Flooring is a Division of SelecTech, Inc.  SelecTech, Inc. was founded in 1993 with the mission of creating valuable products from scrap plastics.  The company has become a leader in the manufacture of flooring products from recycled materials and uses one million pounds of recycled materials annually.  Their products are made with up to 100 percent recycled content, are 100 percent recyclable and install without adhesives making them some of the "greenest" and most cost-effective flooring products available.



Using state-of-the-art technology and innovative product design, SelecTech created StaticStop ESD Flooring, which is renowned as the interlocking ESD flooring powerhouse.  StaticStop ESD Flooring is the only conductive flooring of its kind that can contribute to LEED(TM) points.



The unique interlock system allows StaticStop products to be installed at a much lower cost, without adhesives, and without a lot of costly downtime and disruption, which provides significant value to the customer.  SelecTech, Inc. is headquartered at 33 Wales Avenue, Suite F in Avon, MA.  For more information about SelecTech, visit www.selectechinc.com.



CONTACT: Thomas Ricciardelli, 1-508-583-3200, tricciardelli@selectechinc.com

More from Communication Systems & Equipment