ESCORT Presents All-New MediaFlair Portable WiFi Streaming Accessory & PASSPORT Max HD Radar Detector at GDGT Live Press Event and College Fest in Boston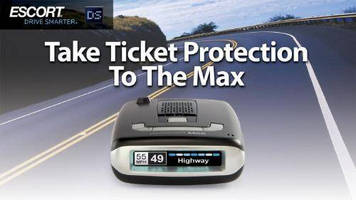 MediaFlair™ Lets Users Listen, Watch and Share Media On The Go



BOSTON — ESCORT Inc. (ESCORTinc.com), designer and manufacturer of the world's best premium automotive accessories and mobile consumer electronics, is presenting its all-new MediaFlair™ portable Wi-Fi® streaming accessory at two major Boston events this week. The MediaFlair™ unit, which offers data storage options and serves as a personal wireless hub for sharing media with others, and ESCORT's new PASSPORT Max™ HD radar detector, will be featured at tonight's GDGT Live press event and then again at this weekend's College Fest.



"Always innovating, we are excited about our new MediaFlair™ portable streaming accessory which allows us to enter into the area of helping consumers with managing and sharing their media," said Rich Parks, ESCORT Business Development Manager. "Our MediaFlair™ accessory helps users free up memory on their smartphones or tablets and allows them to wirelessly access or share their media through the built-in WiFi® connection."



MediaFlair™ is easy to use – copy personal media including music, photos, documents and videos to standard SD cards. MediaFlair™, with the loaded SD card, then becomes a wireless media hub with sharing for up to 5 users simultaneously.



Small (3.29" X 2.28" X 0.48") and lightweight (2.5 oz.), MediaFlair™ is fully portable and can operate up to 4 hours of use on a single charge. A companion MediaFlair™ App is free and works with Apple – including AppleTV, Android and KindleHD. MediaFlair™ is available direct from ESCORT, on Amazon and through other retail outlets nationwide. 



ESCORT will also be featuring its record breaking PASSPORT Max™ High Definition radar detector at both events this week.



PASSPORT Max™, using advanced Digital Signal Processing (DSP), provides the fastest response and the longest reception range ever. In a Speed Measurement Labs test, the new PASSPORT Max™ shattered the three most important test records for detectors: overall range, measured sensitivity and response time.



Both MediaFlair™ and PASSPORT Max™ will be live tonight at the GDGT Live event, 6-10 pm, at Space 57 – 200 Stuart Street and then again over the weekend (Oct 12-13) at the local College Fest event, Hynes Convention Center, 900 Boylston St., both in Boston.



For more information on the new ESCORT MediaFlair™ Portable WiFi® Streaming Accessory, the all-new PASSPORT Max™ HD Radar Detector and ESCORT's complete line of premium automotive products, visit ESCORTinc.com or, call the company direct at 800-433-3487.



About ESCORT Inc.

ESCORT Inc. is the leading manufacturer of high-performance radar and laser detectors and other consumer electronics products including the patented ESCORT Live™ real-time ticket protection network, ESCORT MediaFlair™, ESCORT MobileTV™, Guardian Alert reverse obstacle detection systems, Entourage GPS-enabled navigation and tracking products, ESCORT QuickStart™ and other Drive Smarter products. ESCORT manufactures products under the ESCORT, PASSPORT, Max, REDLINE, SOLO, STi Stealth, Vector and BELTRONICS brands. The company is headquartered in West Chester, Ohio, with its principal manufacturing facility located in Mississauga, Ontario, Canada.



For more information on MediaFlair™, view here:

http://www.youtube.com/watch?v=UcIh1bwGco4

Facebook: http://www.facebook.com/DriveSmarter

Twitter: https://twitter.com/escortradar#sthash.0tszYgTK.dpuf



Source

ESCORT Inc.

More from Software