ERP Software supports structural steel industry.
Press Release Summary: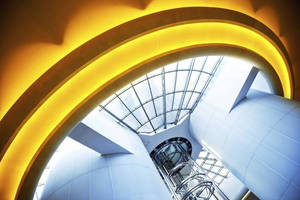 Lantek Steelworks 2012 integrates 3D design programs to provide continuous monitoring of costs, capacity, and delivery performance. Dimensions of parts within projects is analyzed and considered against available stock material sizes. Pre-nesting simulation calculates mix and quantity of material needed and, by calculating delivery date, material is only purchased when required. System can manage reservation of material, making it possible to reallocate material as needed.
---
Original Press Release:

Lantek Steelworks 2012 New Tools for the Structural Steel Industry



To improve management efficiency for companies involved in the structural steel industry, Lantek has released Lantek Steelworks 2012, the latest version of its ground breaking software solution.

The aim of the software is to integrate sophisticated 3D design programs such as Tekla Structures® with the automated manufacture and the control of production processes. European regulations for prefabricated structures cover items such as stress calculations and dimensions so managing this information through the production and build cycles is important for companies within the industry, as is the need for continuous monitoring of costs, capacity and delivery performance. Lantek Steelworks 2012 provides the solution to these requirements.

The solution includes ERP capabilities which control costs, production, budgeting, planning, purchasing and warehousing. It also links to Lantek's other software, Lantek Expert CAD/CAM automated nesting and CNC programming software for laser, plasma and punching machines, and Lantek Flex3d Steelwork which enables the cutting of I,U,L,T,H round and square sections. This system includes 3D nesting into the profile to optimize material utilization, and produces safe and efficient cutting paths on sawing, drilling, punching, tapping, marking, oxycut and plasma machinery.

In the existing version, which is fully Web based, intuitive operation through hot keys, dynamic filters, shortcuts, built-in email and the ability to export dedicated reports, has been added making the system much easier to use, even from tablets and smartphones, offering users the option of working on the move.

Purchasing and warehousing enhancements keep track of material requirements, help to improve cash flow and make the Purchasing Manager's task much simpler. The dimensions of parts within projects is analyzed and considered against available stock material sizes. Pre-nesting simulation calculates the mix and quantity of material needed, while knowledge of delivery dates and production times ensures that the material is only purchased when it is actually required. Additionally, the system can manage the reservation of material for particular projects either from stock already in the warehouse, or from material ordered from a supplier, making it possible to reallocate scarce material as production priorities change.

For the production stage, Lantek Steelworks can now manage even bigger projects with very large volumes of component parts, keeping track of cost as production continues and the progress of each stage of manufacture, all in real-time. Intelligence within the system collates all the documentation against each project and part, ensuring full traceability from finished component to raw material and supplier.

The new Task Management module in Lantek Steelworks allows the software to handle an unlimited number of parts within a job, making the software able to handle the very largest projects. Its revamped interface, customizable menus and new organizational capabilities make it easy to filter and select parts, speeding up and simplifying the drawing, nesting and machining of components of any shape, while its material allocation tools ensure that stock material is appropriately reserved for manufacture.

Interoperability with Tekla Structures® is improved in Lantek Steelworks 2012. The description and numeric identifiers are taken through the whole system, as are technical details such as material specifications, sizes and finishes, giving much better transparency and visibility for the whole project. Similarly, design updates in Tekla Structures® can be managed through the Lantek Steelworks system ensuring that the latest design data is always being used in manufacture.

Alberto Martínez, Lantek CEO, says, "As with all our software solutions we are continually striving to offer our customers products which will make a real difference to their productivity, efficiency and profitability. The advances in Lantek Steelworks 2012 provide improved ease of use, greater transparency and the ability to handle the very largest projects. In Europe this industry processes 200 million tonnes of steel each year. Our software solution provides the tools to save material, reduce administrative effort and achieve true transparency."

About Lantek

Lantek is a leading multinational specialising the development and distribution of integrated CAD/CAM and ERP solutions for the sheet metal and fabrication sectors. Its capacity for innovation and its firm commitment to internationalisation have led Lantek, founded in 1986 in the Basque Country, to become a global reference with its Lantek Expert solutions for sheet metal cutting and punching. Today, the company has over 11,000 customers in over 100 countries, its own offices in Spain (Vitoria-Gasteiz), the Unites States, Germany, Argentina, Brazil, Italy, United Kingdom, China, South Korea, France, Japan, India, Poland, Mexico and Turkey, and a network of distributors that extend its presence throughout the world. In 2011 its international operations provided 83% of its turnover.

For further information visit: www.lanteksms.com

More from Mechanical Power Transmission