Eriez' SafeHold® Permanent Lifting Magnets Make Jobs Safer and Easier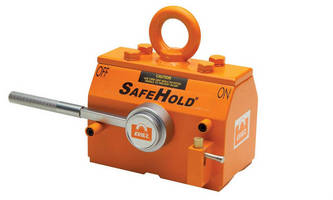 Erie, Pa. - Eriez' SafeHold® Permanent Lifting Magnets allow manufacturers to easily lift, pile and transfer up to 10,000 pounds of steel and iron without slings, hooks or cables. SafeHold Magnets require fewer operators and when properly installed and operated, provide greater safety than many other mechanical materials handling devices.

Eriez SafeHold Magnets make quick work of difficult, time-consuming steel handling, immediately improving efficiency and operating economy. SafeHold Magnets lift and transfer steel and iron of any weight and shape without slings, hooks or cables--and without marring the surface.

Eriez offers four different series of SafeHold Magnets to fit practically any application need.

SafeHold APL Series is ideal for quick and efficient handling of steel where access is limited. The APL series turn off and on automatically to provide continuous operation for hundreds of lifting position applications.

SafeHold EPL Series is specifically designed for machine shop use to carry semi-finished products such as machine parts, press molds and steel plates. They offer high capacity for their size and cost.

SafeHold RPL Series have a two pole design and provide optimum lifting power. The RPL series can be used to handle both round and flat materials quickly and easily.

SafeHold Series XPL Series magnets, constructed with Erium 3000® Rare Earth magnet material, enable an operator to easily lift both flat and round materials. The XPL magnets are ideal for many machine-shop uses including the loading and unloading of the machine center.

To properly select lifting magnets, one must have full knowledge of the application. The factors that have bearing on the lifting magnet selection for any application include:

- Weight, shape and size of load to be lifted

- Surface condition of load and magnet

- Stiffness or flexibility of load

- Range of sizes and shapes to be lifted by the magnets

- Reduction of magnet lifting capacity when less than full magnet face is utilized

Eriez specialists are always available to consult on customers' specific needs. For more information, contact Eriez.

Eriez is recognized as world authority in advanced technology for magnetic, vibratory and inspection applications. The company's magnetic lift and separation, metal detection, x-ray, materials feeding, screening, conveying and controlling equipment have application in the process, metalworking, packaging, plastics, rubber, recycling, mining, aggregate and textile industries. Eriez manufactures and markets these products through 12 international facilities located on six continents. For more information, call toll-free (888) 300-ERIEZ (3743) within the U.S. and Canada. For online users, visit www.eriez.com or send email to eriez@eriez.com. Eriez World Headquarters is located at 2200 Asbury Road, Erie, PA 16506.


More from Electrical Equipment & Systems