Ergonomic LED Strobe Light produces bright, even illumination.
Press Release Summary: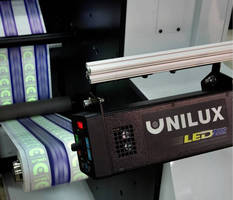 Used for surface and print quality inspection, LED-9 is designed for facilitated, handheld operation and offers range of adjustments for controlling light output. LEDs provide bright, concentrated, even illumination, and respective flash rates for internal trigger, external trigger, and encoder modes are 30–50,000, 1–50,000, and 1–50,000 flashes per minute. Flood and spot configurations output, respectively, 1,430 and 3,120 lux at 24 in. and 658 and 1,400 lux at 36 in.
---
Original Press Release:
Unilux to Introduce Versatile New LED Strobe Light at Labelexpo
LED-9 provides bright, even illumination, advanced controls and an ergonomic design

Saddle Brook, NJ -- Unilux, a finalist for the 2016 Label Industry Global Award for Innovation, will demonstrate the new LED-9 as its featured strobe light for surface and print quality inspection. The LED-9 and strobe lights for UV-visible inks and coatings can be seen in booth 1457 at Labelexpo as part of the company's expanding family of LED strobes for label and narrow-web printing and converting applications.

"The applications for stroboscopic inspection are almost limitless, and Unilux stands at the front of the pack with their newest LED lights," said Tom Herold, VP Sales - Americas. "New LED models incorporate a more ergonomic design and enhanced control of output that could only come from our years of experience with xenon strobes and our extensive investment in product development."

A totally new strobe light, the LED-9 is designed for easier handheld use and has a greater range of adjustments to control light output. LEDs provide brighter, more concentrated, more even illumination than Xenon, making the LED-9 an ideal upgrade for older strobes.

In addition to being more powerful, LED strobes can include UV diodes that enable security label printers and package printers to see special security codes or clear-coat adhesives that are only visible in the narrow UV light spectrum. The LED UV lights are 10 times brighter than traditional xenon UV strobes, which require a filter that blocks light output.

"The UV LEDs provide brighter light that lets inspectors see details in the UV portion even under ambient lighting conditions and without the need for special inspection stations," said Mike Simonis, President of Unilux. "That's something they couldn't do before UV LEDs. At the same time, they can now inspect the entire width of the web across the entire light spectrum at full production speed and make corrections when needed to improve their yield. Unilux is the only inspection light manufacturer that provides this capability."

"We are proud of our team for developing the LED UV lights that have made Unilux a finalist in the Innovation category for the Label Industry Global Awards," he added. "Our staffers at the Unilux booth and employees around the world are eagerly awaiting the outcome."

For additional information, or to schedule a meeting at the Unilux booth, please contact:
Nina Tucker
Unilux, USA
59 North 5th Street
Saddle Brook, NJ 07663
Tel: +1-201-712-1266
marketing@unilux.com

--- About Unilux ---
Unilux inspection lights use the stroboscopic effect to freeze images of sections of webs moving at full production speed, making the smallest of defects clearly visible. This enables operators to use their knowledge of the product and printing process to determine the cause of the defect and take appropriate action to fix the problem or stop expensive, value-added processes to reduce waste.

Unilux has 53 years of experience in designing and manufacturing industrial surface inspection lighting systems for the printing, converting, packaging, metals, paper manufacturing and textile industries. Unilux stroboscopic inspection lights range from handheld, battery-powered units for spot or narrow web inspection, maintenance and troubleshooting applications, to fixed-mounted units capable of inspecting surfaces up to 12m wide. Unilux products are easy to access and well supported by a global network of sales and service representatives in 58 countries throughout the world, along with service centers in North America, Europe, Thailand, China and India.

Copyright © 2016 Unilux, All rights reserved.
More from Software