Ergonomic Cleaning Tools help avoid unnecessary injuries.
Press Release Summary: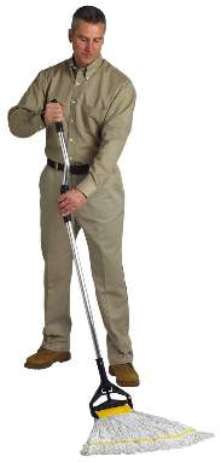 Smart Handle Pro(TM) Line includes 18 tools with curved handle that allows workers to use body's strongest muscles within natural range of motion. Some handles are long and rigid, while others are adjustable so users can grip them at most comfortable height. Third variety swivels 360° to eliminate repetitive motion. Made of thick-wall aluminum, handles feature comfortable gripping surface and will not weaken due to rust, mold, or bacteria growth.
---
Original Press Release:
Only Certified Line of Ergonomically Correct Cleaning Tools Helps Janitorial and Sanitation Workers Avoid Unnecessary Injury
Reduce Costs for Employers New Smart Handle Pro(TM) line by Delta Industries helps prevent lost-time injuries for workers, saves American businesses Workers Comp and related costs KING OF PRUSSIA, Penn. (March 2004) - Muscle and joint pains and related injuries are among the leading causes of workplace-related injuries in the janitorial/sanitation industry. In fact, the United States Occupational Safety and Health Association (OSHA) ranks the industry as having the fifth-highest number of workplace injuries each year. To help reduce the risk of injury and the associated costs, Delta Industries has introduced The Smart Handle Pro(TM) line of patented cleaning and maintenance tool handles. With their unique curved handle design, the tools help reduce the strain workers endure on the job and direct more force to the task at hand. The Smart Handle Pro maintenance tools are the only certified ergonomically correct cleaning and maintenance products available on the market today. The Smart Handle Pro line is popular in the professional cleaning industry because of their patented curved or "sculpted" handle designs that most effectively use the body's strongest muscles working within its natural range of motion. Research by DELTA ERGO(TM) shows that a person's motions are three times stronger, and the body is less prone to injury, when the arms are close to the body. The ergonomic curved handles on The Smart Handle Pro tools direct the actual work close to the center of the body, providing unmatched comfort and ease on the job. As a result, professionals using The Smart Handle Pro tools can increase their productivity by up to 25 to 35 percent, while reducing back and joint pain. The increase in productivity would make a significant difference in today's economy. According to OSHA, muscle and joint disorders account for 34 percent of all lost-workday injuries. Employers report nearly 600,000 muscle and joint-related injuries requiring time off from work every year, accounting for roughly $15 billion to $20 billion in workers' compensation costs - or one out of every three dollars spent on workers' compensation - and as much as $50 billion in total direct costs to employers. "The Smart Handle Pro handles have the potential to make the janitorial and sanitation industries substantially more efficient and enhance the employer's bottom line," said John Stevens, National Sales Manager for Delta Industries. "Providing the right tools for maintenance staff helps reduce the number of lost-workdays due to injury and potentially reduces overall workers' compensation costs." The Smart Handle Pro line includes 18 patented, versatile tools that including brooms, mops and other cleaning tools. Some handles of the tools are long and rigid, strengthening the user's grip for optimum power when and where they need it for their work. Others are adjustable so users can grip them at the height most comfortable for them, and the third variety of handles can swivel 360 degrees to reduce fatigue and repetitive motion. In addition, each handle is made out of thick-walled aluminum so they will not weaken due to rust or mold or bacteria growth. The aluminum design also minimizes the weight of the tool, making work easier and less stressful for the user's muscles and joints. Each handle also features a comfortable gripping surface to minimize stress on the user's hands. "The Smart Handle Pro tools are unlike any ergonomic tools I've ever seen," said Steve Davis, ergonomic expert and founder and CEO of Ergonauts Performance TechnologistsSM, the leading group of ergonomic experts in the country that tested and certified The Smart Handle Pro line. "The handles keep the user upright and in a neutral position, place the work closer to the center of gravity and provide efficient transfer of force to the desired target. All of these factors help minimize the aches and pains that can result from cleaning and help people work quicker and safer." The Smart Handle Pro tools each come with a 30-day warranty for materials and workmanship defects and can be purchased through major industrial product distributors. Delta Industries, headquartered in King of Prussia, Pennsylvania, is North America's largest supplier of reusable trigger sprayers servicing the retail and janitorial/sanitation industries and a leading producer of ergonomic tools for industrial and consumer markets. For more information about The Smart Handle Pro line or to request product samples or interviews with John Stevens, call Jason Sprenger or Trish Scorpio at 651-228-9141.
More from Electrical Equipment & Systems