Ergonomic Balancers help reduce operator fatigue.
Press Release Summary: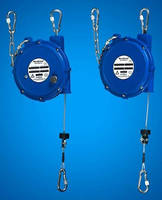 Built to accommodate tighter work spaces, Aero-Motive® Compact AB Balancer lets workers move suspended tools or objects with minimal effort. Products are rated for tool weight range of 1-11 lb, eliminate pick-up and lay-down wear, and prevent tool damage without requiring electrical or mechanical power. Comprised of 3 standard and 3 enhanced models with on/off ratchet lock to hold tool in desired position, series features heavy-duty adjustable spring that ensures variable tension.
---
Original Press Release:

Molex Debuts Aero-Motive® Compact AB Balancers



Ergonomic balancers are streamlined to fit virtually any work space, designed to improve productivity and safeguard expensive power tools

LISLE, Ill. - Molex Incorporated has released the Aero-Motive® Compact AB Balancer designed to allow workers to move suspended tools or objects with minimal effort. Aero-Motive Compact AB Balancers retain the same superior spring performance for optimal tool balance, while accommodating tighter work spaces and reducing work area clutter and risk of accidental tool droppage or start-up during handling. Rated for a tool weight range of 1 to 11 lbs (0.5 to 5.0kg), these AB Balancers are suitable for a range of manufacturing industries and assembly applications.

"Molex's Aero-Motive Balancers eliminate pick-up and lay-down wear and prevent tool damage, without requiring electrical or mechanical power. Operator effort can be directed at controlling, rather than supporting, the tool," states Servando Cedillo, global product manager, Molex Incorporated. "The compact AB design is half the size of other balancers. We've added new features while retaining the intuitive Aero-Motive design, rugged construction, and precision balance."

The Aero-Motive Compact AB series includes three standard and three enhanced models with an on/off ratchet lock to hold the tool in the desired position. A lower locking hook and the 360 degree rotating upper locking hook provide a full range of motion, and the high-impact ABS (Acrylonitrile Butadiene Styrene) composite housing offers extra durability and resistance to harsh environments. A spiral-groove on a tapered drum increases the winding radius to match the torque buildup of the spring when a load is applied. This action neutralizes the force to achieve a true-balance condition.

The ergonomic Aero-Motive design reduces repetitive motion and provides suspension capability for heavy tools to reduce operator fatigue. The heavy-duty adjustable spring ensures variable tension, lasting performance and balancer longevity. A durable PVC-coated galvanized cable protects expensive equipment and extends the life of the spiral-grooved tapered drum and cable. The Aero-Motive Compact AB Balancer features a safety chain with snap hook and locking screw supplied as a standard feature. The secure latching system simplifies attachment and removal, while helping safeguard expensive tools.

Cedillo adds, "Good things can come in small packages-the Aero-Motive Compact AB Balancer offers the best of both worlds to Molex customers who want proven quality and reliable performance in a smaller footprint."

Molex's Aero-Motive AB Balancers have been an industry leader for high quality, durable, and ergonomic tool support. The balancers are compatible with the Molex Workstation Assemblies and other Woodhead® products from Molex which help operators optimize use of space and tools.

For more information on Molex balancers and tool support products, workstation assemblies, balancers, positioners and retractors, visit www.molex.com/link/aeromotivebalancer.html.

About Molex Incorporated
Providing more than connectors, Molex delivers complete interconnect solutions for a number of markets including data communications, telecommunications, consumer electronics, industrial, automotive, medical, military, lighting and solar. Established in 1938, the company operates 40 manufacturing locations in 17 countries. The Molex website is www.molex.com. Follow us at www.twitter.com/molexconnectors, watch our videos at www.youtube.com/molexconnectors and connect with us at http://www.facebook.com/molexconnectors.

More from Explosives, Armaments, and Weaponry