Ergonomic Backrest provides comfort and support.
Press Release Summary: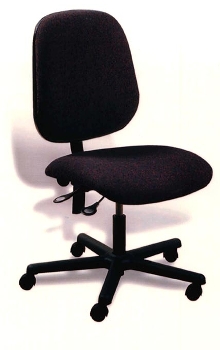 Ergonomic Managerial Backrest measures 18 1/2 in. high and 17 7/8 in. wide, making it higher and wider than conventional backrest on company's ergonomic chairs. Height-adjustable backrest conforms to natural curves of spine and provides lumbar support to reduce low-back fatigue as well as provide upper back support. It is available as option on company's seating lines, including chairs for office, industrial, laboratory, drafting, and clean rooms.
---
Original Press Release:

Biofit Introduces Chairs with Larger Ergonomic Backrest


BioFit® Engineered Products introduces a larger ergonomic backrest as an option for added comfort and support on many of its chair models.

The new Ergonomic Managerial Backrest measures 18-1/2 inches high and 17-7/8 inches wide. It is 4-1/2 inches higher and 2-3/8 inches wider than the conventional backrest on BioFit ergonomic chairs.

In addition to its increased size, the larger backrest offers ergonomic support and the comfort of an upholstered surface. The height-adjustable backrest conforms to the natural curves of the spine and provides lumbar support to reduce low-back fatigue as well as provide upper back support.

"BioFit offers the new backrest for chair users who like the substantial feel and cushioned effect of a large chair back," said Edward A. Metzger, vice president - sales and marketing.

"Although the new backrest can be especially comfortable and supportive for a larger-size individual, it also meets the needs of any person who seeks the benefits of a large backrest surface," Mr. Metzger said.

BioFit offers the larger ergonomic backrest as an option on nearly all seating lines, including chairs for office, industrial, laboratory, educational, drafting, clean room, static control and combination clean room/static control applications.

The larger ergonomic backrest is adjustable and durable, making it an even more viable seating option. Ergonomic controls enable the seated individual to adjust backrest height and tilt, as well as seat height. The new backrest has a plastic panel to help protect upholstery edges.

BioFit offers the larger ergonomic backrest in a variety of upholsteries, including durable fabrics and vinyls for office, industrial and laboratory settings. Options for the laboratory include fabrics and vinyls that provide easy cleanup and resist moisture, stains and spread of bacteria.

BioFit offers the new backrest on both new seating products and chairs already in use. Modular construction of BioFit chairs enables backrests and other components to be interchanged and upgraded after the chairs have been put into service.

For more information on BioFit's larger ergonomic backrest and chair models featuring it, call BioFit toll-free at 1-800-597-0246 (United States and Canada).

BioFit Engineered Products, located outside of Bowling Green, Ohio, is a leading manufacturer of rugged and dependable industrial, high-tech, laboratory, professional and educational seating, computer technology desks, mobile easy-to-fold tables in six shapes, as well as cafeteria tables with attached seating.

P.O. BOX 109; WATERVILLE, OHIO 43566; TEL. (800) 597-0246; (419) 823-1089; FAX (419) 823-1342
http://www.biofit.com