Ergodyne Outfits Workers for Winter Months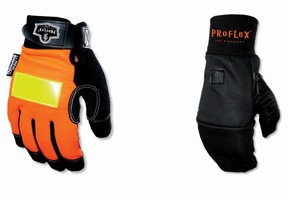 New Thermal and Flip-Top Gloves, Knit Caps and Hi-Vis Hats from Ergodyne
ST. PAUL, Minn. (December 5, 2006) - Anyone who works outdoors doesn't need to be told
that appropriate clothing is a vital factor in battling the elements, especially during the cold
winter months. Ergodyne today introduces four new products to help protect workers from
harsh winter weather conditions.

"We understand outdoor jobsites often become less safe and less comfortable during the
winter months," said Tom Votel, president and CEO of Ergodyne. "So we're introducing
several new products that give workers more comfort and safety without restricting their
movement."

Ergodyne's ProFlex 876WP Hi-Vis Thermal Waterproof Gloves are the ultimate coldweather
solution for outside work. Lined throughout with 40g 3M! Thinsulate! and a Hipora"
breathable waterproof membrane, the 876WP is designed to trap heat and to repel wind and
water. The gloves also include a breathable neoprene cuff with hook-and-loop closure,
abrasion-resistant textured PVC on the palm and fingers and padded knuckles for added
protection. 3M! Scotchlite! tape zones on the back and wrist increase worker visibility.
ProFlex 876WPs are available in S, M, L, XL and 2XL.

ProFlex 816 Thermal Flip-Top Gloves offer workers the warmth they need to protect
their extremities without sacrificing dexterity. Flip-top fingers and thumb are secured open with
hook-and-loop tabs, allowing digits the freedom to move. The polyester knit outside and soft
fleece cuff provide comfort while the windproof, water repellent micro fleece inside ensures
ultimate protection from nature's brutal temperatures. These machine washable gloves are
available in S, M, L, XL and 2XL.

Ergodyne's line of N-Ferno(TM) Warming Products includes the "Be Tenacious" knit cap,
designed to keep workers both warm and comfortable. The soft CoolMax! lining in this snug,
one-size cap wicks sweat and prevents that annoying itch that comes with most winter hats.

A second new hat for the season is Ergodyne's GloWEAR Hi-Vis Knit Hat, designed to
keep night and early morning workers warm and visible. Offered in high-visibility lime or
orange, the toasty knit hats are made with a 100 percent acrylic shell and a soft, comfortable
3M! Thinsulate! 40g flex insulation lining. 3M! Scotchlite! reflective tape trims the outside of
the cap, creating maximum visibility. The GloWEAR hi-vis knit hat comes in one size.

About Ergodyne
Ergodyne has pioneered and led the development of products for worker protection and
performance in the United States, Canada and Europe for more than 20 years. During that time,
the company has built a complete line of specialty products for discriminating trades men and women. These include ProFlex® precision purpose gloves, Chill-Its® warming and cooling products, WorkSmart® gear bags, GLoWEAR® high-visibility apparel, Squids® lanyards and Arsenal® equipment storage systems. For more information on Ergodyne's complete line of gear, visit www.ergodyne.com or call 800-225-8238.

More from Materials