Ergodyne Introduces New Chill-Its Cooling Vests, Absorptive Caps and Cooling Towel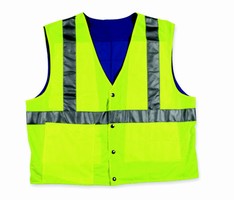 New Cooling Apparel Designed to Fight Heat and Keep Skilled Trades People Cool

ST. PAUL, Minn. (March 4, 2008) - Ergodyne announces advancements and additions to its
Chill-Its® line of cooling vests, absorptive caps and cooling towels to help workers fight the heat by staying cool and dry.

"We continue to develop new products with advanced technology to help workers stay
cool and safe in hot working conditions. These workers demand the most advanced cooling
solutions, and we are dedicated to providing them with products that respond," said Tom
Votel, president and CEO of Ergodyne.

Several products within the Chill-Its Absorptive Series are made of Hi Cool®, a highperformance wicking fabric that quickly moves moisture away from the body for fast
evaporation and optimal comfort.

Chill-Its Evaporative Series products cool workers through evaporation. New additions
and enhancements to this popular series include:

o High Performance Class 2 Evaporative Cooling Vest (6675) - This ANSI-certified model combines a waterrepellent liner and activated, polymer-embedded fabric with a HI-Vis ANSI certified polyester mesh outside to provide the ultimate in comfort and safety. To cool, workers simply soak this vest in cold water to provide relief from the heat. This model also includes a snap closure and outside pocket and is available in sizes Small through 5XL.

o Chill-Its Evaporative Cooling Vest (6665) -This model combines a quilted nylon outer
layer and special inner fabric layer embedded with super-absorbent acrylic polymers. To
cool down, workers simply soak this lightweight, durable vest in cold water and enjoy
instant cooling relief. With a V-neck design, this vest is available in silver or lime and in sizes Medium through 3XL.

o Phase Change Cooling Vest (Khaki and Hi-Vis) (6200) - Ergodyne's Phase Change series is the ultimate in keeping the core body temperature in the safe zone. The vest maintains a constant 58 degrees Fahrenheit and a cooling cycle of up to four hours.
Designed for workers in intense heat environments for long periods of time, the Phase Change Cooling Vest has been proven to increase productivity and recovery times. In an independent 10-day series of tests, firefighter participants wore full gear with their Chill-Its Vests and increased their productivity by 22 percent. The hi-vis orange
vest uses Level 2 ANSI-certified tape; is made of a flame-resistant material that lasts up to 50 washings; has an adjustable hook and loop closure that allows for optimal fit, and exceeds FTMS 191-5903.

Cooling Towel (6602) - For workers who need help cooling off periodically throughout
the day, the Chill-Its Cooling Towel offers cool comfort and sweat absorption at the
ready. Made of a special synthetic chamois material, this soft, washable towel cools on
contact and for extended periods, far surpassing any cotton or synthetic alternative.

New Chill-Its Absorptive Series products include:
o High Performance Caps (6640, 6645 and 6655) - Designed to keep sweat out of workers eyes for comfort and safety using low-tech moisture management. The 6640 (soft bill) and 6645 (hard bill) cotton caps have an absorbent terry sweatband and elasticized back for great fit. Several designs are available, including Stars and Stripes, Barbed
Wire and Skulls. The 6655 Shop Cap is made of absorbent quilted cotton and a soft non-structured bill. This black cap with orange stitching comes in sizes S/M: 6-7/8", L/XL 7-1/4".

About Ergodyne
Ergodyne has pioneered the development of products for worker protection and
performance in the United States, Canada and Europe for 25 years. During that time, the
company has built a complete line of products that provide protection, regulate temperature and enhance productivity. These include ProFlex® precision purpose gloves, Chill-Its® cooling products, N-Ferno(TM) warming products, GLoWEAR® high-visibility apparel, Squids® lanyards, Arsenal® equipment storage systems and gear bags, and CORE Performance Work Wear(TM). For more information on Ergodyne's complete line of gear, visit www.ergodyne.com or call 800-225-8238.


More from Software