Equipment Insight Solution enables industrial Internet service.
Press Release Summary: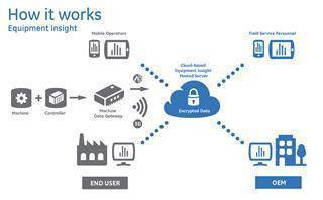 Enabled by Equipment Insight Industrial Internet solution, Roots™ InSite Support service program supports GE's Roots blowers, compressors, and controls customers. Program combines hardware and software to deliver insight that customers need to maximize performance of local site equipment in form of after-market service offering. With InSite Support service program, GE can provide actionable information, responsive troubleshooting, and problem-solving to help keep assets running smoothly.
---
Original Press Release:

Get Connected! GE's Equipment Insight Solution Enables New Industrial Internet Service Offering



GE Predictivity™ solution from GE's Intelligent Platforms business makes it easy to provide Industrial Internet Services with rapid technical decision support for process equipment



Actionable information, troubleshooting and support help keep controls and rotating equipment packages running smoothly with minimal downtime



GE makes the Industrial Internet real with OEM solutions for improved machine performance and enhanced customer service



CHARLOTTESVILLE, VA — GE's Intelligent Platforms business (NYSE: GE) today announced that Equipment Insight, a new breakthrough Industrial Internet solution from GE Predictivity, has been selected as the enabling technology behind a new services program called RootsTM InSite Support*. This new service program is being launch to better support GE's Roots blowers, compressors and controls customers. Roots InSite Support combines GE hardware and software to deliver the insight that customers need to maximize the performance of local site equipment in the form of an after-market service offering. This insight comes from the OEM experts that designed the equipment.



GE is one of the largest Original Equipment Manufacturers (OEM) in the world, offering its Roots blowers, compressors and controls to the Wastewater industry and other industrial sectors. With the new InSite Support service program, GE can provide actionable information, responsive troubleshooting and problem-solving support to help keep these valuable assets running smoothly to avoid unnecessary downtime and associated costs.



With Roots InSite Support, a team of GE controls and rotating equipment experts can provide early detection of equipment problems to avoid extended outages and deliver seamless visibility to critical data for improved decision support. The solution also gives Roots customers easier access to those GE experts.



"Today's OEMs are being pressed to deliver higher levels of service to customers without increasing cost," said Steve Pavlosky, Solutions Ecosystem Leader for GE Intelligent Platforms. "GE Oil & Gas, for instance, was looking to monitor their equipment and share asset information with their end users. Equipment Insight was a perfect fit. We provided the infrastructure that helps GE Oil & Gas get closer to their customers by enabling a service the customer needs on a machine they know."



"Equipment Insight is what makes this services program so robust," said Marc Lindenmuth, Product Manager at GE Oil & Gas. "The simplification of machine to device and device to cloud gave us a platform from which to build now and into the future. And, the security benefits of leveraging a holistic GE solution based on the Industrial Internet investments that the company is making, coupled by the flexibility to layer Equipment Insight on top of any brand of controller or intelligent device, made it easy to select it as the core platform our Roots InSite Support service offering."



"As one of the world's largest OEMs," said Pavlosky, "GE has the experience and vast installed base to harness the power of today's technological transformation – elastic computing power, ubiquitous connectivity and cloud computing -- and make it work for companies of any size."



For more information on GE's Roots blowers, compressors and controls, click here or type in to your browser: http://www.ge-energy.com/about/oil_and_gas.jsp



For more information on Equipment Insight, click here or type into your browser: www.ge-ip.com/equipmentinsight.



About GE

GE (NYSE: GE) works on things that matter. The best people and the best technologies taking on the toughest challenges. Finding solutions in energy, health and home, transportation and finance. Building, powering, moving and curing the world. Not just imagining. Doing. GE works. For more information, visit the company's website at www.ge.com.



Media contacts:

Ellie Holman

GE Intelligent Platforms, Public Relations Director

Phone: +1 508 698 7456

Mobile: +1 508 298 8306

Email: ellie.holman@ge.com

More from Thermal & Heating Equipment