Epson Launches Latest High-Speed, High Quality Personal Business Inkjet Printer in Middle East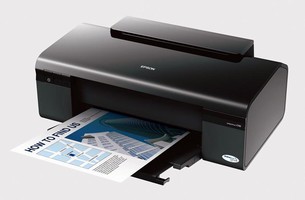 The Stylus C110 features high yield Dual Black Ink System and DURABrite(TM) Ultra Ink, and offers fastest print speeds in its class

December 4th, 2007

Epson has announced the Middle East launch of its latest high-speed, high-quality printer - Stylus C110 - for the home and the office. As well as printing laser-like text, vibrant, colour-graphics and photos, this four colour printer is the fastest in its class. With speeds up to 37ppm in black and white and 20ppm in colour, it is an ideal printer for the home office or small office.

The printer uses Epson's individual ink cartridge system, which means only the colour that is used needs to be replaced. Certified by the ENERGY STAR international standard, the Stylus C110's low power printing technology saves energy especially compared to laser printers, further helping to keep costs down.

Epson has integrated an innovative Dual Black Ink System into the Stylus C110 which increases print speeds and page yields. As a result, small businesses that need a productive and cost-effective printer will find the Stylus C110 a suitable low cost alternative to a laser printer. In addition, the printer supports high-capacity black ink cartridges, allowing for even higher print yields and larger volumes of text-based documents. And unlike similar priced laser printers, it provides the flexibility to print high-quality documents and photos in colour.

The fast printing speeds are achieved as a result of the new Epson Micro Piezo(TM) print head mechanism. The print head has hundreds of tiny nozzles for ejecting ink droplets with the very highest levels of accuracy. The number of nozzles dedicated to black ink has been doubled and when combined with an increase in the speed of ink ejection, the print speed for black text is maximised. This means that in its fastest mode it will print up to 37ppm in black and white but when the quality of the document is paramount, it will still print up to a class-leading 25ppm.

Featuring the latest generation of Epson DURABrite Ultra Ink, the documents from the Stylus C110 are durable, smudge-proof, water and highlighter resistant. Double-sided prints are clear and professional, as the quick drying DURABrite Ultra Ink does not bleed through the page. Black text is sharp and laser-like in appearance ensuring the Stylus C110 produces professional documents to make the right impression.

The Stylus C110 is versatile and is also suitable for photos, a 10x15cm photo can be printed in just 42 seconds. With the latest generation of DURABrite Ultra, a new formulated resin coating means photos are now glossier when used with Epson Premium Glossy Photo paper. The Stylus C110 also includes Epson's PhotoEnhance for improving photos at the touch of a button. It recognises images featuring skin tones, landscapes and skylines and reproduces enhanced colour settings.

Khalil El Dalu, General Manager, Epson Middle East, said, "Many small businesses in the region are using inkjet printers for private offices or for the home office, and Epson has designed the Stylus C110, specifically with these customers in mind. In addition to the fast print speeds, the high yield Dual Black Ink System offers extra convenience for professional customers with large volumes of black text printing. The printer is also compact and energy-efficient, and with DURABrite Ultra Ink it offers a range of printing options, from text and email printing to graphics and photos."

About Epson:
Epson is a global leader in imaging products including printers, 3LCD projectors and small- and medium-sized LCDs. With an innovative and creative culture, Epson is dedicated to exceeding the vision and expectations of customers worldwide with products known for their superior quality, functionality, compactness and energy efficiency.
Epson is a network of 87,626 employees in 117 companies around the world, and is proud of its ongoing contributions to the global environment and to the communities in which it is located. Led by the Japan-based Seiko Epson Corp., the Group had consolidated sales of 1416 billion yen in fiscal 2006.

More from Non-Industrial Products