Epson Launches Latest High Quality, Cost Effective Scanner in Middle East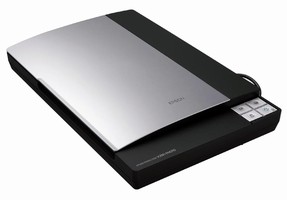 The slim-design Perfection V200 Photo comes with Epson's superior Matrix CCD scanning technology and is ideal for users with restricted space

July 5th, 2007
Epson has announced the Middle East launch of the Perfection V200 Photo, a compact, stylish photo and film scanner designed to meet the needs of the photo enthusiast. The scanner features a remarkable 4800dpi optical resolution with Epson Matrix Charged-Coupled Device (CCD) technology for premium image quality.

A new Auto Photo Orientation feature in the scanner will straighten photos, which have been inserted off-angle, to produce a perfectly aligned image. For added convenience a multiple scan to PDF button has been added, automatically saving documents into PDF format so they are easy to email and file. Further, hassle-free film scanning is delivered with the built-in transparency unit that scans six frames of 35mm stripfilm or four frames of slides at once.

With an extendable hinge and fully open lid design, the Perfection V200 Photo scans documents up to 25mm thick with the lid closed. When open fully to 180° it can copy large document formats, crucial for scanning thick textbooks with heavy spines.

The modern black and silver slim-line body of the Perfection V200 Photo includes four quick-start buttons to immediately access the power on/off, scan to PDF, scan to email and copy making the scanning process fast and convenient, from start to finish. When the power button is selected, the Perfection V200 Photo will start immediately and power down in just three seconds, eliminating unnecessary waiting time once scanning is complete. It is Energy Star compliant and features a power saving mode that is automatically activated after 14.5 minutes of inactivity or immediately under manual operation.

The Perfection V200 Photo is sold along with a range of software to help with image manipulation. The latest version of Epson Scan 3.1 offers the latest photo enhancement technology including Auto Photo Orientation. It analyses the image content to detect the top direction of the image and automatically rotates itself, meaning photos don't have to be carefully laid out on the scanner. Epson Easy Photo Fix(TM) offers colour restoration, backlight correction and improved digital dust correction to restore old or faded images and bring them back to life. Further, the Epson Creativity Suite offers a new red-eye reduction feature. In automatic mode, red-eye will reduce automatically, or if preferred users can choose the manual option.

Khalil El Dalu, General Manager, Epson Middle East, said, "The Epson Perfection V200 Photo is ideal for home or small office customers with restricted space who may want to scan important documents or letters to email, when faxing is not an option. The wide range of features of the scanner also make it well-suited for the education sector especially during technology and design classes. The quality of output will be the stand-out feature of this scanner, which also allows film scanning and boasts of several additional features that ensure easy operation."

About Epson:
Epson is a global leader in imaging products including printers, 3LCD projectors and small- and medium-sized LCDs. With an innovative and creative culture, Epson is dedicated to exceeding the vision and expectations of customers worldwide with products known for their superior quality, functionality, compactness and energy efficiency.

Epson is a network of 87,626 employees in 117 companies around the world, and is proud of its ongoing contributions to the global environment and to the communities in which it is located. Led by the Japan-based Seiko Epson Corp., the Group had consolidated sales of 1416 billion yen in fiscal 2006.


More from Material Processing