Epoxy System resists temperatures up to 400°F.
Press Release Summary: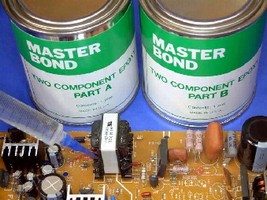 Medium-viscosity, 2-component EP30HT has 4:1 mix ratio by weight, is 100% reactive, and does not contain solvents or volatiles. It cures at room temperature or more rapidly at elevated temperatures. Serving as adhesive/sealant, coating, and casting compound, product adheres to metals, glass, ceramics, woods, vulcanized rubbers, and plastics. Optically clear formula has refractive index of 1.54 and spectral transmittance of 97%. It resists exposure to water, oil, and organic solvents.
---
Original Press Release:

New Medium Viscosity, Optically Clear Epoxy System Resists Up to 400°F



HACKENSACK, NJ - Aug 28, 2006 -- Master Bond Inc., Hackensack, N.J. has recently developed a new medium viscosity, two component epoxy adhesive/sealant, coating and casting compound called EP30HT. It is formulated to cure at room temperature or more rapidly at elevated temperatures. EP30HT features superior dimensional stability, superb optical clarity and high temperature resistance up to 400°F. It conforms to Title 21, U.S. Code of Federal Regulation, FDA Chapter 1, Section 175.105 and 175.300 for food applications.

Master Bond EP30HT has a 4 to 1 mix ratio by weight. It is 100% reactive and does not contain any solvents or volatiles. Its moderate viscosity and exceptionally low shrinkage - 0.0003 inches/in make it well suited for casting. Adhesion to metals, glass, ceramics, woods, vulcanized rubbers and many plastics is excellent. The hardened compound has superior electrical insulation properties.

EP30HT will resist exposure to water, oil and most organic solvents. It has a refractive index of 1.54 and a spectural transmittance (3100-9000) of 97%. Its dielectric strength is 440 volts/mil and its volume resistivity is >1015 ohm cm. Color of Part A is clear and Part B is clear.

EP30HT is available for use in half-pint, pint, quart, gallon and 5 gallon container kits. It is also available in easy to use convenient syringe applicators.

CONTACT:
James Brenner
Marketing Manager
Email: jbrenner@masterbond.com
Tel: 201-343-8983
Fax: 201-343-2132

Web: www.masterbond.com

More from Adhesives & Sealants