Epoxy Resin Compound features high thermal conductivity.
Press Release Summary: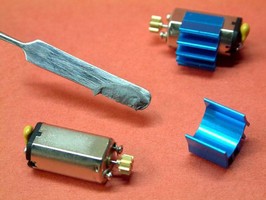 Suitable for use in both thick/thin sectioned configurations, EP21TDC-2LO bonding, sealing, coating, and encapsulation system has thermal conductivity of 9 BTU/in./ft²/hr/°F and volume resistivity of 1,012 Wcm. With service operating temperature range of 4 K to 250°F, room temperature curable product features Shore D hardness of 36, elongation of 50%, 1:3 mix ratio by weight or volume, working life of 90 min for 100 g mass, tensile strength of 1,070 psi, and T-peel strength of 15 pli.
---
Original Press Release:

Flexible, Low Outgassing Epoxy Resin Compound Has High Thermal Conductivity



HACKENSACK, NJ - Feb 1, 2007 - Master Bond Inc., Hackensack, N.J. has introduced a new high performance bonding, sealing, coating and encapsulation system called EP21TDC-2LO. This formulation offers high flexibility and excellent toughness. It cures at room temperatures or more rapidly at elevated temperatures. It has a 1 to 3 mix ratio by weight or volume and has a working life of 90 minutes for a 100gm. mass. EP21TDC-2LO is easy to apply. Little exotherm is developed during cure making it suitable for use in thick as well as in thin sectioned configurations.

Master Bond EP21TDC-2LO meets NASA low outgassing specifications. It exhibits outstanding electrical insulation properties and superior thermal conductivity. It is durable and adheres well to both similar and dissimilar substrates. EP21TDC-2LO has a service operating temperature range of 4K to 250°F. It also features exceptional thermal shock resistance.

EP21TDC-2LO has a Shore D hardness of 36 and an elongation of 50%. It has a tensile strength of 1,070 psi and a T-peel strength of 15 pli. Its tensile shear strength for aluminum to aluminum bonds is 980 psi. Particularly noteworthy is its volume resistivity of 1012 ohm cm and its thermal conductivity of 9 BTU/in/ft²/hr/°F.

Master Bond EP21TDC-2LO is available for use in half-pint, pint, quart, gallon and 5 gallon container kits.

CONTACT:
James Brenner, Marketing Manager
Email: jbrenner@masterbond.com
Tel: 201-343-8983
Fax: 201-343-2132

MASTER BOND INC.
154 Hobart Street
Hackensack, NJ 07601-3922
Web: www.masterbond.com

More from Adhesives & Sealants