Epoxy Polysulfide System exhibits high thermal conductivity.
Press Release Summary: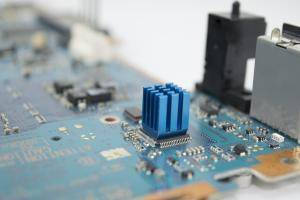 Along with 9-10 BTU•in/ft²•hr•Â°F thermal conductivity, EP21TPFL-1AO electrically insulative, 2-part system exhibits chemical resistance and offers 150%–200% elongation, 70-90 Shore A hardness, and 2:3 mix ratio by weight or volume. Black and white color coding facilitates mixing, and working life is 90–120 min at 75°F. Curing fully at ambient temperatures, flexible product adheres to metals, ceramics, composites, glass, rubbers, and plastics. Service range is -60 to +250°F.
---
Original Press Release:

Flexible, Two Component Epoxy Polysulfide System Features High Thermal Conductivity and Excellent Electrical Insulation Properties



Master Bond EP21TPFL-1AO is an electrically insulative, two part epoxy polysulfide system with a thermal conductivity of 9-10 BTU•in/ft²•hr•°F [1.30-1.44 W/(m•K). As a polysulfide based system, it has very good chemical resistance, particularly to fuels, oils, hydraulic fluids and related compounds. This unusual blend of properties, enables EP21TPFL-1AO to be a candidate for a variety of bonding, sealing, coating and encapsulation applications in the electronic, aerospace, specialty OEM and related industries.



With an elongation of 150-200%, EP21TPFL-1AO offers a high degree of flexibility and it can withstand intense thermal cycling and mechanical shock. This low viscosity system also has a hardness of 70-90 Shore A. The mix ratio is a forgiving two to three by weight or volume. Color coding facilitates mixing. Part A is black and Part B is off-white. Working life is a conveniently long 90-120 minutes at 75°F.



EP21TPFL-1AO fully cures at ambient temperatures and should not be heated. It has very good adhesion to metals, ceramics, composites, glass, and many rubbers and plastics. This compound is serviceable over the wide temperature range of -60°F to +250°F and has a 6 month shelf life in original, unopened containers. EP21TPFL-1AO is available for use in ½ pint, pint, quart, gallon or 5 gallon container kits.



Master Bond Polysulfide Adhesives

EP21TPFL-1AO is a low viscosity flexible epoxy polysulfide system that features reliable electrical insulation and thermal conductivity. Read more about Master Bond's polysulfide adhesives at http://www.masterbond.com/products/polysulfide-adhesives-sealants-and-coatings or contact Tech Support. Phone: +1-201-343-8983 Fax: +1-201-343-2132 Email: technical@masterbond.com.



For a full product description, please visit: http://www.masterbond.com/tds/ep21tpfl-1ao

Check out new videos on our YouTube channel: http://www.youtube.com/user/MasterBondVideo



Contact

James Brenner, Marketing Manager

Email: jbrenner@masterbond.com

Tel: +1-201-343-8983

Fax: +1-201-343-2132



MASTER BOND INC.

154 Hobart Street

Hackensack, NJ 07601-3922

Web: www.masterbond.com