Epoxy Mortar fixes damaged concrete floors.
Press Release Summary: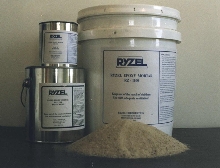 RZ-1100 contains epoxy resins and binders and shatterproof silica aggregate that may be applied in small quantities to repair cracked, spalled, or rough concrete floors. When applied at 1/8 in. thickness, patch will be stronger than existing concrete surface. Dust free material resists live steam, changes in temperature, abrasion, and harsh cleaning chemicals, and can be applied by in-plant maintenance people. It is supplied in 5 gal cans that cover ~50 sq ft.
---
Original Press Release:
Ryzel Epoxy Mortar RZ-1100

Avoid costly product damage due to cracked, spalled or rough concrete floors. RYZEL CORPORATION, EPOXY FLOOR PATCH, RZ-1100 is designed to be used by in plant maintenance people and rule out costly-contract labor and produce a professional job each time.

Rule out plant down time and expensive repairs to plant lift trucks due to broken concrete or uneven expansion joints. A dust free, chemical resistant material that will resist live steam, quick changes in temperature, abrasion and harsh cleaning chemicals and feather edge perfectly every time.

One product that will patch floors, resurface floors or non-skid large or small areas. When applied at 1/8" thick RYZEL EPOXY FLOOR PATCH - RZ-1100 will be stronger than the existing concrete surface.

RYZEL EPOXY FLOOR PATCH - RZ-1100 is a combination of 100% epoxy resins and 100% epoxy binders and a shatterproof silica aggregate that may be applied in small quantities.

RYZEL EPOXY FLOOR PATCH - RZ-1100 is supplied in 5 gallon units, at $85.00 per unit, coverage per unit is approximately 50 square feet per unit. Initial orders will receive a 10% discount. Terms net 30 days, FOB our plant.

RYZEL CORPORATION

5334 CORY HUNT ROAD

BRISTOLVILLE, OHIO, 44402

Phone - (330) 889-3995

Fax - (330) 889-3995

E-mail: Ryzelcorp@yahoo.com



More from Material Handling & Storage