Epoxy Dispersion serves as sizing for fiber reinforcements.
Press Release Summary: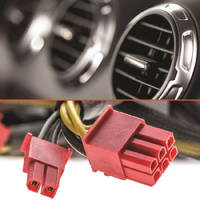 In addition to PBT and thermoset composite manufacturing applications, Hydrosize EP876 Epoxy-Based Fiber Sizing can be used as binder in nonwoven applications. Water-based, formaldehyde-free dispersion is environmentally friendly and eliminates use of flammable solvents. Suitable for use with glass, carbon, and natural fibers, Hydrosize EP876 produces optimized strand integrity and chopping behavior.
---
Original Press Release:

Michelman's New Epoxy-Based Hydrosize® EP876 is a Versatile Solution for Fiber & Composite Manufacturers



CINCINNATI, OH  – Michelman has introduced Hydrosize EP876, a high molecular weight epoxy-based fiber sizing for PBT (Polybutylene Terephthalate) and thermoset composite manufacturing applications. The new grade of Hydrosize can also be used as a binder in nonwoven applications, and complements Michelman's wide selection of fiber sizings and binders for thermoplastic applications.



As a water-based, formaldehyde free dispersion, Hydrosize EP876 is environmentally friendly and eliminates the use of flammable solvents. It can be used with glass, carbon and natural fibers, produces good strand integrity, and offers good chopping behavior.



According to Mr. Gilles LeMoigne, Global Marketing Manager, Industrial Manufacturing Group, at Michelman, "Hydrosize EP876 has shown to be a very versatile new dispersion. It's an excellent sizing and also exhibits a natural tendency to be sticky, which makes it particularly effective as a binder. When used as a sizing on textiles, it facilitates more efficient wetout on the fibers, when impregnating with epoxy resins."



Known primarily for its flagship brand Hydrosize, Michelman's film forming dispersions optimize the surface chemistry of reinforcement fibers that are integral to high performance composites. The company's diverse product range is optimized for a broad range of thermoplastic and thermoset resins, including high temperature matrices. Hydrosize is applied during the manufacturing process of chopped or continuous strand fiberglass, carbon fiber, natural fibers and fillers, or post-applied when making non-wovens and composite pre-pregs.



Grades are specifically engineered for many thermoplastic resins including polypropylene and polyamide, as well as various thermoset resins such as epoxy and polyurethane. Through the development and use of proprietary technologies, Michelman also offers grades capable of performing in high temperature thermoplastics such as PPS and PEEK.



About Michelman

Michelman is a global developer and manufacturer of environmentally friendly advanced materials for industry, offering solutions for the coatings, printing & packaging and industrial manufacturing markets. The company's surface additives and polymeric binders are used by leading manufacturers around the world to enhance performance attributes and add value in applications including wood and floor care products, metal and industrial coatings, paints, varnishes, inks, fibers and composites. Michelman is also well-known as an innovator in the development of barrier and functional coatings, as well as digital printing-press primers that are used in the production of consumer and industrial packaging, paper products, labels, and commercially printed materials. Michelman serves its customers with production facilities in North America, Europe and Asia, product development and technical service centers in several major global markets, and a worldwide team of highly trained business development personnel.



Client Contacts:



Worldwide:

Ms. Christy Randolph

Marketing Associate       

christyrandolph@michelman.com

+1 513 794 4225



In Asia:

Ms. Erica Liao

Marketing Associate

ericaliao@michelman.com

+86 21 2098 6880 x8002