Epoxy Adhesive survives in continuous temperatures to 285°F.
Press Release Summary: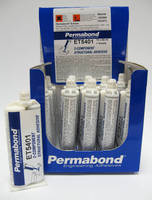 Developed to bond engineering materials such as composites, thermoplastics, metals, and ceramic materials, Permabond ET5401 can survive 285°F continuously while maintaining its performance characteristics. Exposure to higher temperatures for short periods is possible, providing adhesive is not overly stressed. Exposure to 175°F for 1 hr increases adhesive strength and long-term structural performance. Structural epoxy adhesive is suited for bonding dissimilar materials.
---
Original Press Release:

Permabond New High Temperature Resistant Epoxy Adhesive



SOMERSET, NJ – Permabond Engineering Adhesives is delighted to add its new high temperature resistant structural epoxy adhesive to its range. Permabond ET5401 has been developed to bond a wide variety of engineering materials such as composites, thermoplastics, metals and ceramic materials. Traditionally, standard 2-component epoxy adhesives (resin & hardener) can only resist temperatures of up to around 80°C (175°F)before they soften, resulting in joint failure. Permabond ET5401 can successfully survive 140°C (285°F) continuously, and maintain its performance characteristics. It can be exposed to temperatures higher than this (such as those experienced in a paint baking oven) for short periods, providing the adhesive is not overly stressed. Exposing the adhesive to 80°C (175°F) for an hour significantly increases the adhesive strength and long-term structural performance! Permabond ET5401 is a toughened product which is ideal for bonding dissimilar materials (such as metal to composite) where differential thermal expansion and contraction may occur or when good impact and vibration resistance is important. About Permabond

Permabond develops and manufactures engineering adhesives and sealants for assembly, manufacturing, repair, and maintenance. Permabond offers custom formulating for unique requirements. Products are sold worldwide through authorized distributors. ISO 9001:2008 For information please visit our website at www.permabond.com or contact us · Americas 732-868-1372 info.americas@permabond.com · Asia + 86 21 5773 4913 info.asia@permabond.com · Europe +44(0)1962 711661 info.europe@permabond.com

More from Controls & Controllers