Epoxy Adhesive operates at temperatures to 125°C.
Press Release Summary: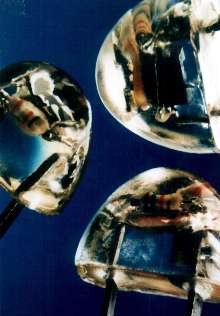 Tra-Bond 2103 2-part, medium viscosity, near transparent adhesive provides rigid sealing, laminating, and bonding. It bonds well to ceramics, metals, glass, composites, and most rigid plastics. Able to cure in 24 hr at room temperature, epoxy cures faster at elevated temperatures.
---
Original Press Release:
Tra-Bond 2103

Tra-Bond 2103 is a medium viscosity, clear, near transparent epoxy adhesive. This two part system was specifically developed for rigid sealing, laminating and bonding applications.

Tra-Bond 2103 bonds well to ceramics, metals, glass, composites, and even most rigid plastics.

With the option for a room temperature cure for 24 hours, 2103 also has quicker cure options at elevated temperatures.

Tra-Bond 2103, once fully cured, can operate at temperatures up to 125°C, and even higher depending on the application.

If you would like more information about or free samples of Tra-Bond 2103, contact our Application Engineers today!
1-800-TRA-CON1

1-800-872-2661

Visit us online at www.tra-con.com
More from Material Processing