Epoxy Adhesive offers max continuity of conductivity.
Press Release Summary: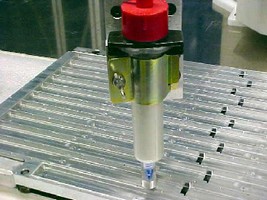 Filled with pure silver, electrically conductive 40-3900 features electrical resistivity value of less than 1 x 10
-4
W-cm and operating temperature range of -50 to +170°C. Product cures in 24 hr at 25°C, 1 hr at 65°C or 15 min at 90°C. In addition to chip bonding in microelectronic and optoelectronic applications, 2-component resin is suited for microwave EMI and RFI shielding, assembly and repair of PCBs, and as cold solder.
---
Original Press Release:

Epoxies, Etc... Develops New Electrically Conductive Epoxy Resin



DESCRIPTION:
40-3900 is a two component epoxy adhesive filled with pure silver. This electrically conductive epoxy resin formulation offers the maximum in continuity of conductivity with an electrical resistivity value of less than 1x10-4 ohm-cm. 40-3900 is also well known for its' wide operating temperature range, -50 to + 170°C.

40-3900 is specifically designed for chip bonding in microelectronic and optoelectronic applications. Due to its' excellent continuity, it has also been used extensively in applications such as micro-wave EMI and RFI shielding, in the assembly or repair of printed circuit boards, wave guides, electronic modules, flat cable, high frequency shields, connectors, circuitry, and as a cold solder.

40-3900 is formulated with pure silver (no alloys) and is designed in a convenient 1:1 mix ratio. Both the resin and hardener have silver powder dispersed.

TYPICAL SPECIFICATIONS:
Mix Ratio, by Weight 1:1
Color Silver
Mixed Viscosity Creamy Paste
Pot Life, 100 gram mass @ 25°C 3 Hours
Specific Gravity, 25°C/25°C 2.80
Tensile Strength, psi 9,450
Hardness, Shore D 70
Compressive Strength, psi 14,000
Heat Distortion Temp., °C 95
Thermal Conductivity, BTU/hr/ft2/°F/in. 100
Thermal Expansion Coefficient, °C 25 x 10-6
Volume Resistivity, OHM-CM .0001
Operating Temp. Range, °C -50 to +170
Cure Schedule a) 24 hrs. @ 25°C
b) 1 hour @ 65°C
c) 15 minutes @ 90°C

More from Adhesives & Sealants