Epoxy Adhesive features high thermal conductivity.
Press Release Summary: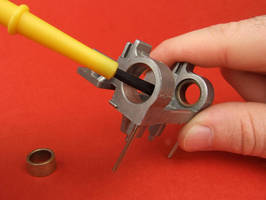 Suited for bonding, sealing, and potting applications, EP30BN optimizes heat dissipation of aerospace, defense, and microelectronic assemblies with minimal weight penalty. Two part boron nitride epoxy adhesive features electrical insulation properties with volume resistivity in excess of 1,014 Wcm and thermal conductivity of 24 Btu/hr/ft²/°F/in. Mechanical strength properties and chemical resistance are maintained over wide temperature range of -60 to 300°F.
---
Original Press Release:

Thermally Conductive Two Part Adhesive for Optimized Heat Dissipation



Hackensack, NJ. July 28 2009-Master Bond's EP30BN is a two part boron nitride epoxy adhesive offering improved thermal management of heat generating components. EP30BN is a medium viscosity epoxy system with good flow characteristics, making it an ideal thermally conductive adhesive for bonding, sealing and potting applications. Featuring remarkably high thermal conductivity and excellent electrical insulation properties, the thermal epoxy is designed to optimize heat dissipation of aerospace, defense and microelectronic assemblies with minimal weight penalty. It is formulated to cure at room temperature or more rapidly at elevated temperatures to a tough, thermoset, dimensionally stable plastic. Attractive mechanical strength properties and outstanding chemical resistance are maintained over the wide temperature range of -60°F to 300°F ( 50°C to 150°C).

Master Bond EP30BN has excellent electrical insulation properties with a volume resistivity in excess of 1014 ohm cm and an impressive thermal conductivity of 24 BTU/hr/ft2/°F/in. Given a specific gravity of only 1.1 it greatly excels the performance characteristics of competitive thermal management materials. EP30BN two part thermally conductive epoxy is an attractive solution for applications requiring effective heat management for high tech devices with weight sensitive components together with electrical insulation and environmental protection properties.

About Master Bond's Two Part Epoxy Adhesives:

Master Bond's two part epoxy system offers unique versatility in application and performance. Their most desirable properties include high bond strength to a wide variety of different substrates, outstanding gap filling capabilities, excellent electrical insulation, high chemical inertness and outstanding resistance to shock and vibration. Special formulations include thermally conductive and electrically conductive adhesive systems, adhesives serviceable in cryogenic applications, as well as adhesive compounds that withstand the most hostile environmental conditions. Viscosities and cure times can be tailored to meet specific application requirements.

Read more about Master Bond's two part epoxy at: www.masterbond.com/prodtype.html#pepoxy or contact: Technical Support. Phone: 201-343-8983 Fax: 201-343-2132 E-mail: technical@masterbond.com

Contact:

Contact Person: Rachel Ruchama

Company Name: Master Bond Inc

Telephone Number-201-255-0064

Fax Number-201-221-8628

Email Address-rruchama@masterbond.com

Web site address-www.masterbond.com

More from Adhesives & Sealants