Epoxy Adhesive/Encapsulant is flame retardant.
Press Release Summary: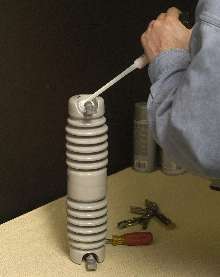 Self-extinguishing, 5 Minute® Epoxy FR fills gaps and bonds rigid substrates such as metals, glass, ceramics, concrete, and wood. Mixed as dispensed, product has 115,000 cps viscosity, 3-5 min working time, 10-15 min fixture time, and 2-3 hr functional cure time. Once cured, it offers tensile shear strength of 2,800 psi on cold-rolled steel and dielectric strength of 490 V/mil. Bonds withstand temperatures from -40 to +200°F and resist motor oil, kerosene, and unleaded gasoline.
---
Original Press Release:

New Fast-Curing Epoxy Adhesive/Encapsulant Is Flame-Retardant


DANVERS, MA - Devcon's new 5 Minute® Epoxy FR is a flame-retardant, fast-setting, general-purpose adhesive/encapsulant for potting aerospace inserts and for other OEM applications requiring a self-extinguishing adhesive. It passes the UL 94V-0 burn test and the federal 60-second vertical burn test (14 CFR 25.853).

A creamy paste at room temperature, 5 Minute Epoxy FR is easily dispensed, fills gaps, and bonds rigid substrates such as metals, glass, ceramics, concrete, and wood in all combinations. 5 Minute Epoxy FR comes packaged in 50-ml resealable Dev-Pak(TM) cartridges that fit manual or pneumatic applicator guns with static mixing nozzles. Mixed (1:1) as dispensed, it has a viscosity of 115,000 cps, a working time of 3-5 minutes, and a fixture time of 10-15 minutes. It attains functional cure in 2-3 hours. VOC emissions are very low because the formulation is solvent-free.

Once cured, 5 Minute Epoxy FR typically provides a tensile shear strength of 2800 psi on cold-rolled steel (per ASTM D1002 at 75° F and 180° F) and a dielectric strength of 490 volts/mil (per ASTM D149 at 75° F). Bonds withstand service temperatures from - 40° to 200° F and exhibit excellent resistance to motor oil, kerosene, and unleaded gasoline.

A pioneer in adhesive technology, Devcon offers the most technically advanced epoxies in a wide range of viscosities, working times, and cure times for virtually any application. Through its network of application specialists and distributors, Devcon will review customer applications, evaluate bond performance requirements and process considerations, recommend the best adhesive, and even supervise the testing of bonded assemblies. For highly specialized requirements, Devcon engineers will work with OEMs to formulate custom adhesives.

For more information, contact David Bongiorni, Market Development Manager, Devcon, 30 Endicott Street, Danvers, MA 01923, Toll-Free: 1-800-933-8266, TEL: (978) 777-1100, FAX: (978) 774-0516, http://www.devcon.com/devconfamilyproduct.cfm?familyid=331.

More from Thermal & Heating Equipment