EPL-TN-FKLT-RED LED Forklift Light comes with parabolic reflectors.
Press Release Summary: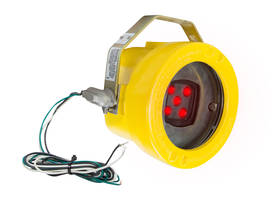 Made of unbreakable polycarbonate, EPL-TN-FKLT-RED LED Forklift Light is designed to be mounted on front and back of forklift. Providing 2250 lumens of light, unit is operated in -40°C and 80°C temperature range with 12 volt and 2.09 amps supply. Unit comes in case made of copper-free aluminum with thermoset powder coat finish. Featuring ¾ in. thermal resistant lens, product offers five degree spread spot beam using parabolic reflectors.
---
Original Press Release:
Larson Electronics Releases a 25 Watt Explosion Proof LED Forklift Light
Larson Electronics, a leader in the commercial and industrial lighting sector, has announced the release of a 25-watt red forklift LED warning spotlight. This fixture is designed to expand safety measures in a hazardous work area by actively providing early notifications for nearby workers and pedestrians.
The EPL-TN-FKLT-RED red LED forklift safety light from Larson Electronics is an explosion proof light that produces 2,250 lumens of sharp red light while drawing only 2.09 amps from a 12 volt electrical system. This LED spotlight is designed to be mounted on the front and back of a forklift or other heavy machinery to warn pedestrians and bystanders when in the path of an oncoming forklift. Five, five-watt red LEDs producing 450 lumens each are combined with high output parabolic reflectors to produce a narrow five degree spread spot beam, providing a high intensity center beam that is visible at night and during the day.
The housing for this unit formed from extruded aluminum and the lens is constructed of unbreakable polycarbonate. The light is enclosed in a Class 1 Division 1 casing constructed of copper-free aluminum with a thermoset powder coat finish. The lens on the casing is constructed of ¾" thermal shock and impact resistant tempered glass. This LED warning light can operate in temperatures ranging between -40°C and 80°C. It is also waterproof (up to one meter) and resistant to the ingress of dust, dirt, and humidity. This LED safety light is permanently mounted with a yolk type mounting bracket with a single through hole.
"This new bred LED spotlight was designed to meet the demands of customers who have requested a light to extend the safety operations of forklifts within a hazardous work area," said Rob Bresnahan, CEO of Larson Electronics. "The light eliminates the need for strenuous strobe lights and audible alarms that could cause more of a distraction rather than assist with safety precautions."
Larson Electronics specializes in portable industrial lighting equipment, high mast light towers, explosion proof light fixtures, power distribution systems, LED lighting and more. To view their wide range of products, visit them on the web at Larsonelectronics.com or call 1-800-369-6671 for more information.
Related