Epilog Laser Teams with CADLink to Offer PhotoLaser Plus Software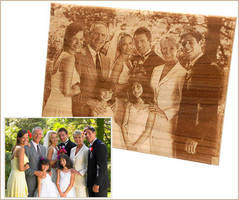 Epilog Laser today announced the company is partnering with CADLink to offer PhotoLaser Plus, the industry's highest-quality photo engraving software. This marks the first partnership between a laser engraving system manufacturer and the top photo processing software in the industry.

PhotoLaser Plus is extremely versatile, making it ideal for both beginners and advanced engravers. Beginners eliminate guesswork by simply importing artwork, running it through the program, selecting the material they're engraving and sending the job to the laser.

As beginners improve and become more advanced, they can utilize powerful photo adjustment tools as well as create and access custom photo processing settings, greatly reducing production time on photo engraving jobs.

PhotoLaser Plus also includes useful engraver's tools such as Name Badge Layout, Automatic Text Condensing and Data Serialization.

"We've tested PhotoLaser Plus with nearly every kind of photo on just about any material you can think of," Dean said. "We're thrilled with the results and we're sure our customers will be too."

More from Labels Tags Signage & Equipment