Electrical Sensors / Detectors / Transducers
EPIC Sensor suits high-volume, remote sensing applications.
Press Release Summary: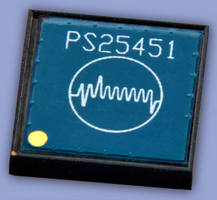 With electrode design that eliminates use of titanium dioxide electrodes in medical applications, PS25451 EPIC (Electric Potential Integrated Circuit) sensor measures electric field changes without physical or resistive contact. Solid-state sensor, supplied in 10 x 10 x 2 mm 3D package with exposed pins, detects changes in magnetic field even through clothing and can be tuned for detection at distance as required by adjusting gain and bandwidth of associated amplification circuitry.
---
Original Press Release:

Saelig Introduces Low-Cost EPIC Sensor for High-Volume Remote Sensing Consumer Applications



Pittsford, NY. Saelig Co. Inc. announces the PS25451, an ultra-low cost version of Plessey's award winning EPIC Sensor that provides remote sensing for high-volume consumer markets. The PS25451's novel, economical electrode design eliminates the more expensive titanium dioxide electrodes currently used in higher-end medical applications. The EPIC Sensor (Electric Potential Integrated Circuit) is a new, innovative device that measures electric field changes without physical or resistive contact. EPIC is an award winning, patent-protected technology for rapidly measuring spatial electric fields.

The PS25451 is an ultra-high impedance, non-contact, solid-state electric potential sensor that is ideally suited for a variety of consumer devices such as proximity switching of lighting, gesture-based remote control of interactive toys, computer games, TVs, monitors, other appliances, and presence detection - even through walls - for security/alarm systems. The EPIC sensor works by measuring tiny changes in an electric field in a similar way to a magnetometer detecting changes in a magnetic field even at a distance and through clothing. This enables it to be used for security motion sensors and non-contact electrical switches as well as medical applications detecting heart beats, nerve and muscle activity either by dry contact (i.e. no gels required) or contactless.

The PS25451 is housed in a proprietary 3D package with exposed pins for surface-mount assembly, and measures 10mm x 10mm x 2mm. By adjusting the gain and bandwidth of the associated amplification circuitry, the sensors can be tuned for detection at a distance as required.

EPIC technology functions at normal room temperatures as an ultra-high input impedance sensor that forms a highly stable, extremely sensitive, contactless digital voltmeter to measure millivolt electric field changes. EPIC technology is so sensitive that it can detect human body movement at a distance or through a solid wall.

EPIC technology and reference designs will be shown on Plessey's booth 627 at the Chicago Sensors Expo Show in June 6-7, 2012. EPIC application notes and datasheets are available at www.saelig.com/category/MFR0113.htm

EPIC sensors are in commercial production by Plessey Semiconductors (UK) - a leading European innovator in the development of integrated circuits and sensors. PS25451 EPIC Sensors are available now from Saelig Company, Inc. Pittsford, NY, Plessey's USA technical distributor. For detailed specifications, free technical assistance, or additional information, please contact Saelig 1-888-7SAELIG, via email: info@saelig.com, or by visiting www.saelig.com. Video demos of the EPIC sensor can be found at http://www.plesseysemiconductors.com/media_video.html

About Saelig Company, Inc. Founded in 1988 in Rochester, New York, Saelig is a North American distributor with a growing reputation for finding and sourcing unique, easy-to-use control and instrumentation products and related active components, for use in a variety of industries, including: automation, automotive, aerospace & defense, computers, controls, embedded systems, medical & pharmaceutical manufacturing, motion control, R&D, wireless, etc. Products lines are continuously added from sources across the globe, and are offered at highly competitive prices, accompanied by full in-house technical support, exceptional customer service, and fast delivery. For full details of available product lines, please visit www.saelig.com.

About Plessey Semicoductors Ltd. Plessey Semiconductors are leading experts in the development and manufacture of semiconductor products used in sensing, measurement and control applications. Plessey's products are found in a wide range of markets including communications, manufacturing, medical, defense, aerospace and automotive. Plessey designs products for high performance applications and its range of integrated sensing products includes CMOS image sensors, Hall Effect devices and its award-winning EPIC electric potential sensors. These products all benefit from Plessey's high precision, high temperature and radiation tolerant technologies.

High Quality Image www.saelig.com/supplier/plessey/ps25451epicsensor.jpg

Press Release Link:http://www.saelig.com/pr/ps25451.html

Contact Information
email: info@saelig.com
phone / fax: 585-385-1750 / 585-385-1768
web: www.saelig.com

More from Fasteners & Hardware