EPCOS Transformers are designed for an output of up to 60 W.
Press Release Summary: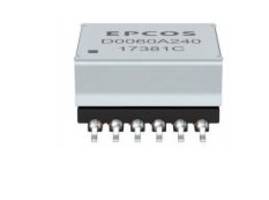 EPCOS Transformers are offered in B82806D0060A240 (turn ratio 1:1:0.5), B82806D0060A120 (2:1:1), B82806D0060A050 (4:1:2.3) and B82806D0060A033 (6:1:3.5) types with output voltages of 24, 12, 5 and 3.3 respectively. Units come in 30 mm x 22 mm x 11.4 mm dimensions and are operated in -40 °C to +125 °C temperature range. These EPCOS transformers are suitable for video and POS systems, lighting controllers, fire alarm systems and feature maximum primary resistance RDC is 35 mΩ.
---
Original Press Release:
Transformers: Powerful Transformers for PoE++
TDK Corporation presents a new series of EPCOS transformers designed for an output of up to 60 W, which are therefore suitable for PoE++ according to IEEE 802.3bt. The new B82806D0060A** series comprises four types with different turns ratios for output voltages of 3.3 V, 5 V, 12 V, and 24 V. The SMD components have dimensions of 30 mm x 22 mm x 11.4 mm and are designed for a wide range of operating temperatures from -40 °C to +125 °C.
The electrical insulation of the RoHS-compatible transformers complies with UL 1446 class 130 (B) and can withstand a high-voltage test between the primary and secondary sides at 1500 V AC, 50 Hz for one second. Particularly worth highlighting are the low DC resistance values that – depending on the type – can be as low as 3.5 mΩ. This results in a higher efficiency, thus making the new transformers also suitable for active clamp forward converter topologies. The typical switching frequency is 250 kHz.
An increasing number of devices offer LAN connectivity for communication purposes. The obvious solution therefore is to power them via the LAN cable as well (Power over Ethernet), so that no separate power supplies are necessary. Existing systems with two pairs of cables compliant with IEEE 802.3af (PoE) and IEEE 802.3at (PoE+) are designed for outputs of 15 W and 30 W, respectively. The IEEE 802.3bt (PoE++) standard, which is designed for four pairs of cables, has been developed in order to supply devices with a higher power demand. The new EPCOS transformers are designed specifically for this application segment. Typical applications are video and POS systems, but also include systems such as lighting controllers, fire alarm systems or access systems that are used in building management.
Glossary
Power over Ethernet (PoE): Systems for the simultaneous transmission of data and power of a single LAN cable
Main applications
The supply of powerful loads, such as video and POS systems, but also systems used in building management such as lighting controllers, fire alarm systems or access systems.
Main features and benefits
High output of 60 W
DC resistance values as low as 35 mΩ
Key data
Type                         Turns ratio Pri:Sec:Aux           Output voltage [V]            Max. leakage inductance [µH]         Max. RDC Pri [mΩ]           Max. RDC Sec [mΩ]
B82806D0060A240     1:1:0.5                                            24                                       0.25                                              35                                      35
B82806D0060A120      2:1:1                                              12                                        0.18                                              35                                      8
B82806D0060A050      4:1:2.3                                             5                                        0.32                                              35                                     4.5
B82806D0060A033      6:1:3.5                                            3.3                                       0.6                                               35                                      3.5
Further information on the products can be found at www.epcos.com/transformers.
About TDK Corporation
TDK Corporation is a leading electronics company based in Tokyo, Japan. It was established in 1935 to commercialize ferrite, a key material in electronic and magnetic products. TDK's portfolio includes passive components, such as ceramic, aluminum electrolytic and film capacitors, ferrites and inductors, high-frequency products, and piezo and protection components, as well as sensors and sensor systems and power supplies. These products are marketed under the product brands TDK, EPCOS, InvenSense, Micronas, Tronics and TDK-Lambda. TDK's further main product groups include magnetic application products, energy devices, and flash memory application devices. TDK focuses on demanding markets in the areas of information and communication technology and automotive, industrial and consumer electronics. The company has a network of design and manufacturing locations and sales offices in Asia, Europe, and in North and South America. In fiscal 2017, TDK posted total sales of USD 10.5 billion and employed about 100,000 people worldwide.
Related