EOS Launches New Laser-Sintering Machine and Powders at EuroMold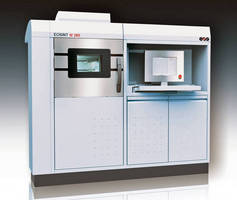 Laser-sintering system manufacturer, EOS, launched a new machine for processing metal powders at EuroMold 2010. Called EOSINT M 280, it is an improved version of its market leading additive manufacturing systems for metal components. Peter Klink, Executive Vice President Global Sales, said, "The machine sets new standards in terms of part quality and reproducibility, while at the same time improving cost-effectiveness and user-friendliness.

The company pioneered direct additive manufacturing of metals in 1995 with the introduction of the EOSINT M 250 and to date has sold about 270 metal systems, many for series production in a variety of fields including medical products and tooling.

EOSINT M 280 has all of the features and advantages of the established EOSINT M 270, the world's best-selling metal additive manufacturing system by far, but includes significant technological developments.

400 Watt laser for increased build speed and productivity

The EOSINT M 280 is available with either the same 200 Watt fibre laser as fitted to the EOSINT M 270, or with a 400 Watt fibre laser option. This higher power laser can melt more metal powder per second, achieving shorter build times and higher system productivity. For example, displayed at EuroMold was an injection mould core that was built in less than half the time.

Especially for heavy use in a manufacturing environment, this enables significantly reduced cost-per-part, raising the competitiveness of laser-sintering compared to other technologies and opening up additional application areas.

Increased build height expands applications range

Another improvement of the EOSINT M 280 is an increase in the maximum build height to 325 mm, compared with 215 mm for the M 270. Taller parts may therefore be produced in the process chamber, expanding the range of applications. This is particularly interesting for hybrid part building, a concept which EOS introduced in the 1990s for prototype tooling. In the hybrid process, complex parts are produced by building additional material on top of a prefabricated part.

Optimised gas management: robust process for increased reproducibility

Based on extensive process investigations and supported by fluid dynamics simulations, EOS has optimised the gas management system of the EOSINT M 280. A high velocity, laminar flow of protective gas across the entire build area, combined with a high capacity recirculating filter system, ensures even more uniform process conditions. As a result, stable melting behaviour is ensured, even over long periods and with higher laser power.

This results in further improved reproducibility of part properties. The system therefore offers an excellent platform for further material and process developments. It also supports processes in a nitrogen gas atmosphere, created by compressed air via an integrated nitrogen generator, as well as in argon gas. Moreover, further improvements in the gas management system enable a reduction in gas consumption and prolonged filter lifetime, which further improve the cost-effectiveness and user-friendliness of the system.

Part Property Management based on thorough process development

The new EOSINT M 280 builds on the Part Property Management concept, introduced at EuroMold 2009. It enables standardisation and comparability of building processes, based on so-called Part Property Profiles (PPP). By ensuring consistent quality throughout the process chain, EOS enables machine users to reliably produce parts based on defined material and part properties.

The EOSINT M 280 supports all the materials used in its predecessor, with equivalent or optimised parameter sets. Currently, EOS offers ten series of materials, including the most recent EOS NickelAlloy IN625. For the 400 Watt option, faster parameter sets with corresponding PPPs will be introduced. Customers can either use the pre-qualified EOS parameter sets or develop and modify their own.

Further system improvements

As with previous models, the system configuration can be adapted to different customer needs through a variety of options and accessories. Laser power is monitored during the building process by a facility called LPM, which reports compliance with the specifications or warns of any deviations.

With the base module of the EOSTATE 1.2 software, machine status can be monitored. Additional EOSTATE modules, Quality Assurance, Controlling and MPM (Machine Park Management) are also available. They allow a statistical overview of the built jobs and parts over freely selectable periods of time.

Integrated Process Chain Management (IPCM) modules offer optimised powder and part handling, thus ensuring increased productivity, quality and usability. These can be added at any time. In addition, EOS plans to introduce an optional glove box to enable the parts to be freed from powder inside a closed process chamber environment.

New metal and plastic powders herald additional application areas

EOS introduced new plastic and metal materials at the show. The metal material was EOS NickelAlloy IN625, while for plastic parts, PrimePart FR (PA 2241 FR) and PrimePart ST (PEBA 2301) were launched.

Peter Klink, continued, "Very often, the development of new materials is based on close dialogue with our customers. Such developments help to meet their manufacturing challenges while reducing production costs. In addition, the latest materials open up completely new fields of application."

EOS NickelAlloy IN625

The new EOS NickelAlloy IN625 is a versatile material with high tensile strength, excellent processability and uniform corrosion resistance, making it ideally suited to use in aerospace, chemical, motorsport and marine applications.

First applications have shown promising results. Greg Morris, CEO of rapid prototyping and manufacturing specialist, Morris Technologies in the USA, noted, "We are using IN625 with DMLS to build complex aerospace parts for high temperature and high strength applications.

"The process achieves material properties that are comparable to wrought metals and far exceed casting. For prototyping projects, DMLS saves our customers weeks and often thousands of dollars compared with traditional methodologies."

PrimePart FR (PA 2241 FR) flame retardant material

PrimePart FR (PA 2241 FR) is a new, flame retardant material that is particularly suitable for applications in the aerospace industry. Based on PA 12 polyamide, the material has an 11 percent elongation at break, which is significantly higher than its predecessor material PA 2210FR. Due to its better refresh rate, PrimePart FR offers better economy and ecological benefits.

PrimePart ST (PEBA 2301)

PrimePart ST is a flexible elastomeric material offering a wide range of mechanical properties, depending on the laser exposure strategy selected. Via the process control, the material can be converted into a hard- or a soft-type component. It has an excellent refresh rate, making it a valid ecological alternative compared to conventional flexible materials for laser-sintering. Due to its resilience, PrimePart ST opens up new fields of application, such as flexible fasteners, seals or buffers.

On behalf of:
EOS Electro Optical Systems Ltd,
The Innovation Centre, Warwick Technology Park,
Gallows Hill, Warwick, CV34 6UW.
Tel: 01926 623107.
Fax: 01926 623108.
E-mail: [email protected]
Web site: www.eos.info
Contact: Stuart Jackson, Regional Manager, UK & Eire.

Issued by:
THE RIGHT IMAGE Ltd,
PO Box 42,
Twickenham, TW1 1BQ.
Tel: 020 8891 0603.
E-mail: [email protected]
Contact: Chris Wright.