EODD Pump offers alternative to air operated units.
Press Release Summary: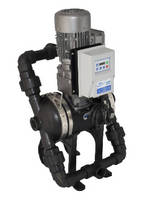 Powered by ¾ hp motor, Model 25200 Electric Operated Double Diaphragm Pump should be considered for applications that require pump with suction lift in excess of 20° hg, pumping liquids with large suspended solids, and transferring liquids with non-shearing, low emulsifying action. Unit can run dry, self-prime from dry starts, and provide variable flow rates. Applications include sump pumping, oil water separation, drawing samples, collecting waste oil, skimming tanks, and oil spill clean-up.
---
Original Press Release:
Edson's 2500 Series Pump Proves to be a More Efficient Solution
New Bedford, MA, USA – Recently introduced by Edson International, the Model 25200 EODD (Electric Operated Double Diaphragm) Pump offers an alternative for many applications to the over used, energy hungry demands of AODD (Air Operated Double Diaphragm) Pumps.

The Department of Energy's Office of Industrial Technology considers compressed air "one of the most expensive utilities in an industrial facility." They encourage companies to monitor its use and where appropriate, "users should always consider other cost-effective forms of power to accomplish the required tasks and eliminate unproductive demands." Since pumps are power based tools, using one that does the job with a cost-effective use of power should be a major consideration.

Customers are finding the Edson Model 25200 Electric Powered Double Diaphragm Pump, powered by a ¾ hp motor, a very worthy alternative for many AODD pump applications. For those applications where the Model 25200 was purchased as a viable alternative, customers saved up to ten times the kilowatt hours compared to those necessary to produce the compressed air to power the AODD pump. Over a ten year operational life this difference in power consumption will generate thousands of dollars in energy cost savings.

With these savings in mind, the Edson 25200 Electric Double Diaphragm Pump should be considered for applications that require a pump with suction lift in excess of 20" hg, pumping liquids with large suspended solids, transferring liquids with a non-shearing, low emulsifying action, a pump that can run dry, a pump that can self-prime from dry starts, and a pump designed to provide variable flow rates. For treatment plant operations this includes applications such as sump pumping, oil water separation, drawing samples, collecting waste oil, skimming tanks, and oil spill clean-up

For a complete description and application guide for all Edson Diaphragm Pumps, call or email Edson, or download the Edson Diaphragm Pump Application Brochure at www.edsonpump.com.

For more information:
Visit Website www.edsonpump.com
E-mail info@edsonpump.com
Call 800-393-8657
Media Contact: adam@edsonintl.com
More from Fluid & Gas Flow Equipment