Environmentally Protective Gel coats modular connector jacks.
Press Release Summary: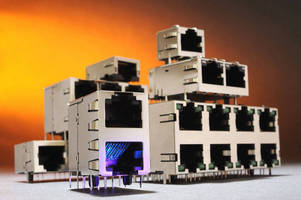 Environmentally Protective Compound, EPP-918A gel offers corrosion, dirt, moisture, humidity, and chemical resistance for RJ45 and RJ11 Modular Connectors, and protects against wear from repetitive mating/unmating forces. Applied to connectors' gold-plated contacts during manufacturing, gel also includes UV tracer die for visual inspection. It is available on shielded/unshielded Stewart Connector modular devices, including those with up to 12 ports, in vertical and right-angle configurations.
---
Original Press Release:

Stewart Connector's Newly Formulated EPP-918A Gel Extends the Life of RJ45 and RJ11 Modular Connectors



Proprietary Compound Protects Contacts from Corrosive Elements and Wear Caused by Mating/Un-mating Line Cords

Glen Rock, PA - KStewart Connector, a division of Bel Fuse Inc. (NASDAQ: BELFA & BELFB), today released RJ modular connectors coated with an Environmentally Protective Compound, EPP-918A gel. This newly formulated proprietary gel is developed exclusively to provide both lubrication and pore blocking properties to significantly extend the life of voice and data connections. Offering excellent corrosion, dirt, moisture, humidity, and chemical resistance, the gel also protects the integrity of RJ45 and RJ11 jacks from wear resulting from repetitive mating/un-mating forces. EPP-918A contains Ultraviolet (UV) tracer dye to enable visual inspection, and is applied to connectors' gold-plated contacts during manufacturing. Notably, Low Level Contact Resistance (LLCR) reliability tests indicate no significant changes to contacts to 10,000 cycles. In addition to single-port jacks, the gel is available on all shielded/unshielded Stewart Connector modular devices including those with up to 12 ports, in vertical and right angle configurations, and with/without LEDs. EPP-918A parts are more eco-friendly than conventional modular connectors as their long life cuts down on the waste resulting from discarded electronic components.

Meeting the stringent requirements for modular connectors utilized in harsh environmental conditions, the RoHS- and REACH-compliant jacks are confidently specified for virtually all industrial, commercial, and consumer applications where environmental protection and/or multiple mating cycles are required. They are most commonly used in FTTH (Fiber to the Home), industrial Ethernet, and outdoor network and communications equipment. Jacks are highly appropriate in military field equipment, field test equipment, EMT communications devices, fire and law enforcement equipment, marine environments, and in mining, oil, and manufacturing applications. Stewart Connector's EPP-918A parts are moreover appropriate in electronic gaming and video equipment.

The modular jacks' specifications include an operating temperature range of from -40 degrees C to +85 degrees C, and withstand high temperature soldering (in excess of 260 degrees C for 10 seconds). EPP-918A gel adheres to contacts instantly upon application and remains intact, eliminating the additional tape, mechanical barriers, or cure time frequently required with competitive products. For more information visit http://www.belfuse.com/Data/UploadedFiles/EPP-918a.pdf

The cost of adding EPP-918A to Stewart Connector¡¦s RJ modular connectors ranges from $0.20 to $0.30 per port. Samples are immediately available for design-in quantities. To locate a representative or distributor, visit belfuse.com/StewartConnector/RepsList.asp, or http://belfuse.com/StewartConnector/DistributorList.asp.

About Bel

Bel (www.belfuse.com) and its divisions, including Stewart Connector, are primarily engaged in the design, manufacture, and sale of products used in networking, telecommunications, high- speed data transmission, and consumer electronics. Products include magnetics (discrete components, power transformers and MagJack"¥ connectors with integrated magnetics), modules (DC/DC converters, integrated analog front-end modules, custom designs), circuit protection (miniature, micro and surface mount fuses) and interconnect devices (passive jacks, plugs and cable assemblies). The Company operates facilities around the world.

Except for historical information contained in this news release, the matters discussed are (including information regarding EPP-918A Environmentally Protective Product) forward-looking statements that involve risks and uncertainties. Among the factors that could cause actual results to differ materially are the following: the effect of business and economic conditions, the impact of competitive products and pricing; capacity and supply constraints or difficulties; product development, commercializing or technological difficulties; the regulatory and trade environment; and the risk factors reported from time to time in the Company's SEC reports.

Related