Environmental Simulation Chamber is offered with water cooling.
Press Release Summary: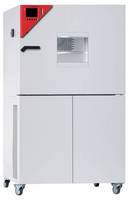 Equipped with optional water cooling, MKF chambers consume 2,200 W, and those with -40 to +180°C range come in 115, 240, and 720 L sizes. At max inlet temperature of 10°C, freshwater routed to cooling system reducing waste heat to produce positive effect on heat compensation, switching rates, and ambient conditions in working environment. Units are also equipped with wastewater and freshwater connection to supply freshwater to humidity system.
---
Original Press Release:

BINDER MKF Environmental Simulation Chamber Now with Water Cooling



Technology increases energy efficiency and accelerates switching rates



Water cooling

MKF environmental simulation chambers from BINDER are now equipped with optional water cooling. Freshwater at a maximum inlet temperature of 10 °C is routed to the cooling system in the unit. The freshwater reduces the waste heat from the cooling system by controlling its dissipation. As a result, cooling capacity is increased many times, which has a positive effect on heat compensation and switching rates. In addition, ambient temperature in the equipment areas increases less due to the reduced waste heat, thus creating a comfortable working environment. This is a significant advantage in summer months, in southern countries or in large laboratories with a high number of heat-emitting devices.



For water cooling, the units are also equipped with a wastewater and freshwater connection to supply freshwater to the humidity system. A button on the side control panel is used to turn the water supply ON/OFF.



Increased energy efficiency

The addition of water cooling means significantly less energy consumption. While standard units without water cooling consume 3900 W at 25 °C and 60% r.H., an MKF unit with the water cooling option only consumes 2200 W. BINDER observes international guidelines for reducing energy consumption and makes another contribution in sustainable environmental policy.



MKF – Material testing with cooling and vapor pressure humidification

MKF environmental simulation chambers with a temperature range of -40 °C to +180 °C are available in 115, 240 and 720 liter sizes. The MKF 115 and MKF 240 allow you to switch between water cooling and air cooling. Thus, the environmental simulation chambers can be best used depending on the conditions and parameter settings. All units of the MKF series have an electronically controlled humidification and dehumidification system with drift-free capacitive humidity sensor and vapor pressure humidification. The humidity sensor is responsible for measuring the values and ensures accurate test results. The required temperatures and humidity values in the range of 10 – 98% RH are quickly achieved and accurately maintained to cover even the most demanding alternating climatic profiles. The MKF series meets the requirements of international standards such as EN, IEC or MIL.



Product family – MK, MKF, MKT and MKFT

In addition to MKF environmental simulation chambers with vapor pressure humidification, BINDER has other environmental simulation chambers in its product range including the MK, MKT and MKFT series. The specialists for alternating climate profiles differ by their different temperature ranges and the addition of a humidification system. The series are available in different sizes from 53 to 720 liters and equipped with a stable chassis standard for sizes of 115 liters or more. All sizes have a heated viewing window, internal LED chamber lighting and a large access area for easy loading of the chambers. Behind the familiar red BINDER triangle on the front of the units there hides a simply designed control panel with LCD screen and many useful program functions, e.g. up to 25 storable programs and programmable condensation protection.



About BINDER GmbH:

BINDER is the world's largest specialist in simulation chambers for the scientific and industrial laboratory. With its technical solutions, the company contributes significantly to improving the health and safety of people. Our range of products is suitable for routine applications, highly specialized work in research and development, production and quality assurance. With 350 employees worldwide and an export quote of 80%, BINDER 2012 sales were 56 million euros.



Contact:

BINDER GmbH

Dorothea Fichter-Fechner

Im Mittleren Ösch 5

78532 Tuttlingen

Tel.: +49(0)7462-2005-632

Dorothea.Fichter-Fechner@binder-world.com

www.binder-world.com

More from Sensors, Monitors & Transducers