Temperature Sensors / Detectors / Transducers
Environmental Sensors improve building automation tasks.
Press Release Summary: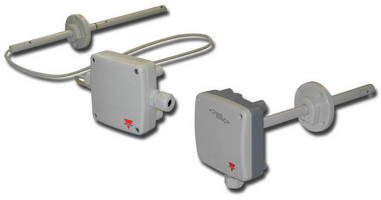 Able to measure indoor environmental parameters such as CO2, humidity, temperature, and air velocity, CE-approved and RoHS-compliant CGES Series can help increase supply of fresh air into building, improve indoor air quality, and contribute to compliance with ASHRAE 62-1989. Each sensor operates on 24 Vac/Vdc and can be mounted in walls or ducts. Output options include 0-10 V, 4-20 mA, and switching, while auto-calibration ensures proper tuning for continuous, worry-free operation.
---
Original Press Release:

Environmental Sensors for Building Automation



Buffalo Grove, IL - Carlo Gavazzi Automation, the international electronics Group with activities in designing, manufacturing and marketing of electronic equipment, launches the CGES Series, a new range of sensors designed to measure various indoor environmental parameters, including CO2, Humidity, Temperature and Air Velocity.

When CO2 levels rise to an unacceptable level, with poor air quality and stuffy rooms, the CGES sensors can be used to help increase the supply of fresh air into the building and, as a result, improve the indoor air quality. The CGES sensors can be a significant contributor to compliance with ASHRAE 62-1989, which recommends a maximum concentration of 1,000 ppm of CO2 indoors. Additionally, the auto-calibrating feature ensures that the CGES is properly tuned for continuous, worry-free operation.

The CGES Series can also be used to control humidity levels in wet climates, thus elevating the comfort level of the occupants and discouraging the growth of mildew. Air velocity and temperature sensors can be used to keep indoor air temperatures at comfortable levels, and maximize energy efficiency.

All of these new sensors operate on 24 VAC/DC for flexibility, and feature multiple output options, including 0-10V, 4-20mA, and switching. They can be mounted in walls or ducts. The CGES sensors are a complete and versatile solution with applications in office buildings, schools, pools, museums, green houses, incubators, and food storage rooms, among many others.

List prices begin at $260. They are CE approved and RoHS compliant, and are available from Carlo Gavazzi's North American network of sales offices / distributors or www.GavazziOnline.com.

Any questions regarding this press release should be directed to Jim Dunn, Product Manager: 847.465.6100 x106 or jdunn@carlogavazzi.com

Available in North America from:
CARLO GAVAZZI Inc., 750 Hastings Lane, Buffalo Grove, IL 60089
Phone: 847.465.6100 Fax: 800.222.2659 Email: Sales@CarloGavazzi.com,
CARLO GAVAZZI (Canada) Inc., 2660 Meadowvale Blvd., Mississauga, ON L5N 6M6
Phone: 888.575.2275 Fax: 905.542.2248 Email: Gavazzi@CarloGavazzi.com
CARLO GAVAZZI S.A. de C.V., Calle La Montaña no. 18, Fracc. Los Pastores, Naucalpan de Juárez, EDOMEX CP 53340
Phone/Fax: 52.55.5373.7042 Email: MexicoSales@CarloGavazzi.com

More from Mounting & Attaching Products