Environmental Sampling Kits detect food contamination.
Press Release Summary: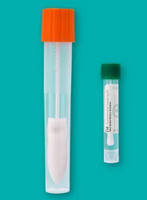 EnviroMax® and EnviroMax® Plus are dry and pre-moistened kits, respectively, with flexible handle shaft and 2 absorbent foam tip options. Tips have inner paddle structure that gets into tight crevices. Bright white in color, swabs and shafts facilitate visual detection of colorimetric changes that indicate positive results. Swabs come in tubes with leak-proof caps that block gasification and liquid spills. ESK Sampling Kit offers 3 swab tip material options and variety of fill solution choices.
---
Original Press Release:

Puritan Launches New Environmental Product Line



GUILFORD, Maine, -- North America's leading manufacturer of medical, forensic and clinical swabs, Puritan Medical Products Co. LLC, has launched the production of specially designed environmental sampling kits that meet the growing demands in the food industry for better ways to combat contamination.

The new Puritan sampling kits -- EnviroMax(®), EnviroMax Plus(®) and ESK Sampling Kit(®) -- were designed in consultation with the food industry, says Timothy Templet, Puritan's executive vice president for global sales. And the company maintains total control over consistent quality and reliable on-time delivery by manufacturing the new swabs in its state-of-the-art ISO 9001:2008-registered production facility in northern Maine. No other company selling environmental swabs manufactures them in North America.

The result? Puritan's reliable, dependable quality swabs, known for the best collection and release attributes, are now available with transport tubes in several sizes and fill options.

The EnviroMax (dry) and EnviroMax Plus (pre-moistened) kits have strong, flexible handle shafts, available with two tip options of absorbent foam. The tips have an inner paddle structure that facilitates getting into the tightest of crevices, where contaminants may be hiding. The kits' swabs and shafts are bright white, facilitating easy visual detection of colorimetric changes that are an immediate indication of positive test results. And they are being produced as complete surface-testing kits, in secure tubes with leak-proof caps that block gasification as well as liquid spills that help to ensure testing efficacy.

The ESK Sampling Kit (which will be available in November 2011) is designed with three swab tip material options, a wide range of fill solution choices, and even custom solutions to cover all testing needs. And the leak-proof tubes and caps with fully integrated handles make testing easier and more reliable. The swabs used in the ESK product are Puritan's patented famous HydraFlock, PurFlock and PurFlock Ultra, known for superior collection and release qualities.

Also available are polyester and rayon swabs.

As the nation's food industry faces increasingly frequent and sometimes major contamination problems, Templet stresses the importance of being able to quickly deliver reliable testing kits. "Food producers now need to know as quickly as possible whether their products are contaminated -- before these products are shipped. They cannot afford to wait until the food is on the store shelves," he says.

Equally important, Templet says, was Puritan's thorough design research, based on "going directly to our customers -- food processors, service companies, pharmaceutical manufacturers and others who sample for environmental contaminants -- to study their operations first-hand. So our products are very closely tied to exactly what each industry needs."

The Puritan environmental swabs are a new product from a company that is nearly a century old. Puritan's parent company, Hardwood Products, began 94 years ago as a manufacturer of tongue depressors, made from the fine-grained wood of the white birches that surrounded the northern Maine plant. Then came, cotton-tipped swabs for use by physicians and hospitals, followed by the many clinical and diagnostic products the company is so well known for today.

For more information, visit www.puritanmedproducts.com


More from Software