Environmental Data Logger integrates 2G/3G modem.
Press Release Summary: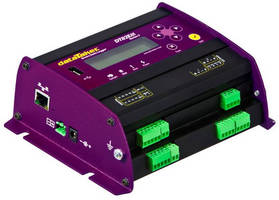 For environmental applications where network connections or access may not be available, stand-alone DT82EM features analog, digital, and universal channels; USB memory stick support; 18-bit resolution; display; and cellular modem. Latter provides email and SMS support for automated data and alarm transfer from remote sites. Also included, dEX Web-based software offers operator interface for configuration, real-time monitoring, and data downloads.
---
Original Press Release:

CAS Announces New DT82EM Data Logger



Intelligent Environmental Data Logger with Modem

CHESTERLAND OH - CAS DataLoggers has partnered with leading data logger manufacturer, dataTaker, to announce the DT82EM Intelligent Environmental Data Logger with built-in 2G/3G modem. The DT82EM is a robust, stand-alone, ultra low-power data logger featuring universal inputs, USB memory stick support, 18-bit resolution and a built-in display. The new logger has the same flexible functionality as the DT82E data logger, but extends its already extensive communication capabilities with the built-in cellular modem. Designed for a wide range of environmental applications including agriculture, weather stations, hydropower, and other projects where network connections or access may not be available, the new DT82EM offers a flexible, cost-effective solution for remote applications.

The internal GSM modem is largely preconfigured so it's easy to set up using dataTaker's dEX web-based software. The dEX operator interface allows quick configuration of the data logger, real-time monitoring, data downloads, and lets users view current measurements as mimics, charts, or in a list using a standard web browser through the built-in Ethernet Interface with no need for special software. The modem features email and SMS support for automated data and alarm transfer from remote sites, enabling the data to be emailed directly to an inbox, and can also be set based on time and date or on alarm. Alarms can also be sent to mobile phones via SMS.

The DT82EM data logger can easily connect to most sensors and data measurement sources via analog and digital channels, along with 4 high-speed counter channels. Its 2 universal analog sensor channels support up to 6 sensors measuring temperature, voltage, current, 4-20mA loops, resistance, bridges, strain gauges, or frequency. The DT82EM's Dual Channel isolation allows 4 2-wire differential or 6 common referenced analog inputs to be used in many different combinations. Measurements are performed at a high accuracy of ±30 V input measurement range and can all be scaled, logged and returned in engineering units or within statistical reporting. The data logger also has 4 digital channels, 4 high speed counter channels and an SDI-12 interface for environmental sensors. Group sampling, logging, alarm and control tasks operate within multiple schedules to suit user requirements.

Powerful communications features also include Ethernet and USB memory stick ports. Users can connect to the DT82EM locally, remotely or over the Internet. Based on the highly successful DT8x platform, the DT82EM features rugged design and construction providing reliable operation in extreme weather conditions and operation on battery or solar power for extended periods. Additionally, the DT82EM can store up to 10 million data points in its large user-defined memory, with the ability to log as much or as little as users need, using independent control of schedule size and mode. The data logger will overwrite or stop logging once its allocated memory is full. Operators can archive data on alarm event, copy to USB memory, or transfer via internal FTP server to an office over the internet or mobile phone network, without the need for polling or specific host software.

Ideal for remote data logging applications where conventional access to the logger is difficult, and for mobile applications in vehicles, the new DT82EM is an intelligent, user-friendly solution. For further information on data logging and remote monitoring equipment, data acquisition and control systems, temperature monitoring solutions for cold chain and transport applications or facility monitoring and alarming systems contact a CAS Data Logger Applications Engineer at (800) 956-4437 or visit the website at www.DataLoggerInc.com.


More from Software