Enhancing Analytical throughput with the Uniaxial Powder Tester Consolidation Station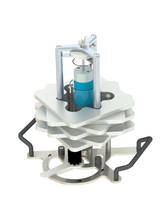 A key part of any powder process is understanding how powders behave when subjected to consolidation. It is crucial for the development of effective storage and processing strategies. The Uniaxial Powder Tester, from Freeman Technology, is a stand-alone shear tester for simple, sensitive and cost-effective powder characterisation. The instrument also enables innovative offline consolidation which delivering additional testing capabilities and valuable insights.
The offline Consolidation Station allows samples to be stored for extended periods under precisely controlled conditions, such as applied consolidation (up to 100kPa), elevated temperature (up to 70°C) and varying humidity, thereby simulating typical industrial environments. Multiple units can be employed simultaneously to replicate various industrial processes, leaving the main instrument available for continued testing and dramatically boosting analytical throughput.
For more information on the UPT, and other powder testing products offered by Freeman Technology, please visit www.powderflow.com.
ABOUT FREEMAN TECHNOLOGY
Freeman Technology specialises in systems for measuring the flow properties of powders and has over 15 years' experience in powder flow and powder characterisation. Expert teams provide comprehensive support alongside the company's range of products.
Systems are installed around the world across a diverse range of industries. They deliver data that maximise process and product understanding, accelerating R&D and formulation towards successful commercialisation, and supporting the long term optimisation of powder processes.
Freeman Technology is headquartered in Gloucestershire, UK, with operations in the USA , China, Japan and Germany, and distribution partners in key global territories.
In 2007 the company received the Queen's Award for Enterprise in Innovation and in 2012 the Queen's Award for Enterprise in International Trade. www.powderflow.com
Twitter – www.twitter.com/FreemanTech
Facebook – www.facebook.com/FreemanTechnology
LinkedIn – www.linkedin.com/company/freeman-technology
More from Electrical Equipment & Systems