Enhanced Pumping Elements and Integral VFD/Motor Controls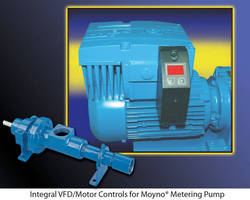 Springfield, Ohio - The Moyno® Metering Pump includes enhanced pumping elements and integral VFD/Motor Controls that expand the scope of metering applications and enhance economical and efficient performance when metering low-flow liquids in a wide range of processing applications including dosing, sampling and metering. The integral VFD/motor controls also improve metering accuracy and repeatability.

Additional features and benefits of the Moyno Metering Pumps include:

o Dust and water resistantance for dirty, wet environments

o .5 - 5 HP

o 1 or 3 phase

o Compact and rugged design

o LED external displays

o Economical to operate

o UL and cUL listed and CD marked

o 4-20 mA input for feedback control

o IP55 and IP55/NEMA enclosures are standard

o Handles simple drive function commands to more demanding positioning controls

The progressing cavity design of the Moyno Metering Pump results in a smooth flow free from pulsations and variations in velocity and volume to prevent material waste or mixture imbalance. Typical applications include:

o Water and wastewater chemical injection

o Food and beverage flavorings transfer

o Chemical processing for various industries

o Pulp and paper, pumping titanium dioxide

o Pharmaceutical industry handling fillers

o Pastes and gels

Moyno, Inc., a unit of Robbins & Myers, Inc., is a leading manufacturer of Moyno® progressing cavity pumps, sludge pumps, metering pumps, sanitary pumps, mag-drive pumps, multiphase fluid transfer systems and grinders. Its worldwide multi-million dollar stocking distribution network serves a wide range of industries, including water and wastewater treatment, oil and gas, pulp and paper, specialty chemicals, pharmaceuticals, food and beverage, biofuels, mining, and petrochemical.


More from Electronic Components & Devices