Engraving Tools suit small lettering applications.
Press Release Summary: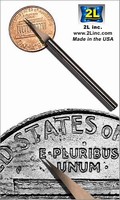 Solid carbide Micro-Profiler Engraving Tools are available with 1/8 in. dia shanks, 15° and 30° angles, and tip widths of .002 and .005 in. They are available in 2 engraver styles: General Purpose Engraver for use on wide variety of materials, such as steel and hard aluminums, and Softer Material Engraver designed to provide keen cut on gummier materials such as plastic and aluminum.
---
Original Press Release:

Precision Micro-Size Profiler Engraving Tools Are Now Available as In-Stock Items.



April 18, 2008

2L inc's Precision Micro-Profiler Engraving Tools for small engraving and machining are now available in narrower included angles and micro small tip widths.

Hudson, Massachusetts. 2L inc. announced today that it is accepting orders for its' precision made, high-quality Micro-Profiler Engraving Tools.

"The 2L Micro-Profilers allow customers to machine a variety of materials requiring extremely small tools as small as .002" in diameter", stated the company spokesman. "These Micro-Profiler Engraving Tools offer a significant solution to operators performing small engraving and marking applications", he noted.

"Requests for Engraving Tools that can perform quality marking of small lettering have been significantly increasing and we are pleased to offer our customers an in-stock tool selection that can address these needs" added the company spokesman.

2L Solid Carbide, Micro-Profiler Engraving Tools are now available in stock with 1/8" diameter shanks, 15 and 30 degree included angles and tip widths of .002" and .005". Many other Profiler Engraving Tools are also stocked in a large range of tool diameters, and tip widths.

2L Profilers are available in two Engraver Styles: a General Purpose Engraver that can be used on the widest variety of materials such as Steel and hard Aluminums, and a Softer Material Engraver designed to provide a keener cut on gummier materials such as Plastic and Aluminum.

Micro-Profilers, and the full line of 2L Engraving and Cutting Tools can be used with the patented 2L Spring Loaded Engraving Toolholder, CNC milling machines, Hand Held Engraving Machines and Industrial Marking Equipment.

2L inc's Engraving and Cutting Tool line continues to grow, offering quality, precision-made solid carbide engraving tools and burnishing tools.

About 2L inc.:
Since 1998, 2L inc. has been designing, developing, manufacturing and distributing innovative tools and product solutions for the manufacturing, engraving and industrial markets.

Source 2L inc.

Please refer all inquiries to:
2L inc.,
4 Kane Industrial Drive,
Hudson, MA 01749,
Phone: (978)567-8867,
Fax: (978)562-8972

website: 2Linc.com.

Contact Name: Lori Nichols
Title: Marketing
E-mail: contact@2Linc.com

Related