Engraving Tool provides precise depth control.
Press Release Summary: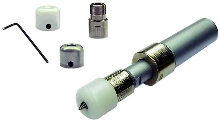 Suited for applications requiring precise depth of engraving on various materials, Depth Controlling Nosepiece System enables CNC machine operator to control exposure of engraving toolbit to engraved part in increments down to 0.001 in. It is used in conjunction with 2L Spring Loaded Engraving Tool, which provides flexibility of engraving on materials with inconsistencies and odd shapes. Software creates incremental serial numbers, text, logos, and drawings.
---
Original Press Release:

Solution for Achieving High Engraving Depth Tolerances Found


2L inc. Depth Controlling Nosepiece System now available

Hudson, Massachusetts - 2L inc. announced today the release of the newest product in its' Engraving Tool Line. The Depth Controlling Nosepiece System is a significant advancement to engraving technologies currently available for companies who desire precise depth of engraving on a wide variety of materials.

The Depth Controlling Nosepiece System enables the CNC machine operator to control the exposure of the engraving toolbit to the engraved part in increments as small as 0.001".

Designed to meet the specific needs of customers performing engraving that requires accurate depth control, the Depth Controlling Nosepiece System is used in conjunction with the patented 2L Spring Loaded Engraving Tool and allows for absolute depth control for engraving using CNC machines.

"We are pleased to be able to continue enhancing our products and offering simple and effective solutions to our engraving customers," A company spokesman said. "Our patented Spring Loaded Tool provides customers the unique flexibility of engraving on a large variety of inconsistent materials. The Depth Controlling Nosepiece System now expands on our goal of helping customers solve their most challenging high-production engraving problems by allowing for precise user-defined engraving depths on those same materials."

The 2L Engraving Tool Line now features products which simplify engraving on a diverse range of materials of most densities including aluminum, plastic, brass, copper, steel, and glass.

· The Spring Loaded Engraving Tool allows the engraving toolbit to float over inconsistencies and odd-shapes in engraving materials, prolonging the life of the toolbit and enabling more consistent engraving.

· The 2L Engraving Software creates incremental serial numbers, engraves text, logos and drawings by creating standard g-code that is compatible with any CNC control that recognizes G0 and G1 commands.

· The Reducing Shaft attachment allows the Spring Loaded Tool to be held in any common one-half-inch collet or endmill holder.

· The Depth Controlling Nosepiece allows precise engraving depth control by limiting the toolbit extension from the Spring Loaded Engraving Tool.

Please refer all inquiries to the Marketing Department at:
2L inc., P.O. Box 105, Hudson, MA 01749
(978)567-8867
2Linc.com

About 2L inc.
Since 1998, 2L inc. has been designing, developing, manufacturing, and distributing innovative tools and product solutions for the manufacturing and industrial markets.

2L inc.
P.O. Box 105
Hudson, MA 01749
Phone: (978)567-8867
Fax: (978)562-8972
2Linc.com

More from Agricultural & Farming Products