Engineering Clear Plastic Tray Design Stacks Up to Alleviate Packaging Concerns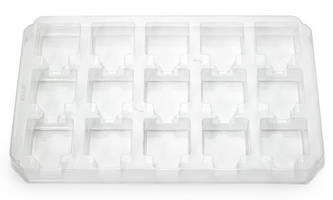 Expertise in thermoformed tray design produces unique stacking tray for shipping and storage of solenoid valves

Arnold, MO - June 17, 2010 - ASCO Valve, Incorporated is the world's leading manufacturer of solenoid valves. ASCO products are designed to control the flow of air, gas, water, oil and steam. Providing highly technical products, ASCO Valves can handle the most demanding fluid control applications. From the most minor of fluid control needs to complete flow control systems, ASCO Valve provides quality, state-of-the-art products.

The solenoid is an electromagnetic part of a valve, comprised of a coil, coretube, core and enclosure. The electro-mechanical device, when energized or de-energized, opens and closes to control the fluid. This open and close function of valves is associated with pressure and can have 2-, 3- and 4-way ports. Actuators, cylinders, pistons, fittings and voltages are involved in many cases, and one begins to realize how critical these solenoid valves can be.

When components within a system are considered critical devices, protection of the devices takes on a very high importance. For ASCO Valve, protection begins in production, and that includes the handling of the finished product. ASCO Valve products include electrical components, and this requires additional measures when it comes to material handling. The movement of electrical components should be minimized so the ideal concept is to devise packaging with a contour fit. More importantly, shipping and storage must consider static conditions, eliminating or minimizing static properties.

StockCap , a supplier of ASCO Valve, was coincidently alerted to the material handling concerns of the ASCO products. ASCO was introduced to VisiPak, a related division of StockCap, and when presented with the material handling concerns, VisiPak delivered a 2-way solution. A new clear plastic tray would nest neatly for storage when empty, requiring less storage space. However, when holding and stacking the products, this clever plastic shipping tray was designed to keep the weight of the tray above from contacting the components below.

VisiPak engineers designed a thermoformed tray capable of holding several solenoid valves. The clear plastic tray provided sections that matched the dimensions of the solenoid valve to yield the required contoured fit, minimizing moment of the units. Next, the engineers added a twist to this design, or in this case, a turn. By turning or alternating the ends of the plastic shipping trays, the thermoformed trays stack without touching the units below. The ASCO company logo and arrows are embedded in the clear plastic tray to assist with packaging. As the trays are filled and packed for shipment the packaging personnel simply rotates each layer of trays inserted in a box, guided by the company logo and arrows. Packed correctly, the logo will be on opposing ends of each layer of trays.

"A simple packing instruction combined with a unique design contributed to the success of this tray," said Mark Hill, Design Engineer for VisiPak. Rod Whittier, Thermoformed Products Manager for VisiPak continued stating, "Knowledge of the ASCO products through my business relationship with StockCap, along with my new role for VisiPak proved highly valuable to both our companies." Previously a sales manager for StockCap, Mr. Whittier now heads up the Thermoformed Products Sales Division.

The unique design function of this thermoformed tray solved multiple issues for ASCO Valve. Less storage space is required for empty trays and the additional cost of separating layers of product was eliminated. "Our experience within the industrial markets allows us to leverage our packaging engineering and design expertise, adding value for our industrial clients by functioning as part of their package design team," said Jeff Barket, Director of Sales and Marketing for all the Sinclair & Rush divisions.

For more information visit VisiPak on the web at www.visipak.com/ or call 800-949-1141.

About ASCO Valve Incorporated:

ASCO Numatics provides valve products and valve systems to a number of different industries such as automotive, commercial and industrial laundries, commercial kitchens, food and beverage, medical and analytical instrumentation, nuclear power, packaging, petroleum and chemical pharmaceutical, and pulp and paper, and more. Manufacturing elevator, compressors and generator controls since 1888, it was in 1910 that the first ASCO solenoid valve was produced. ASCO was the first company to develop and manufacture this new electrically operated control device. ASCO Valve now operates in over 42 countries. For additional information on products from ASCO Valve, please visit www.ascovalve.com/Applications/AboutAsco/AboutASCO.aspx

About VisiPak:

Clear plastic packaging is the VisiPak specialty and this includes extruded and thermoformed packaging options. With the addition of clamshell packages and transparent boxes to the original line of clear plastic tubes, VisiPak is the clear choice for all your transparent packaging needs.

Leveraging its position as the largest extruder of clear PETG plastic tubing in the U.S., the VisiPak division of Sinclair & Rush is proud to be a leader in the field of designing and manufacturing clear plastic packaging. VisiPak was the first packaging manufacturer to bring clear plastic mailing tubes to the direct mail industry and has introduced other innovative packaging solutions like PermaSeals, Hang Tubes, and Donation Containers. Expanding into thermoformed packaging, VisiPak now offers Clamshells, Blisters and Trays, with many stock clamshells ready to ship. If a custom package is required, the VisiPak design team can offer great design flexibility in full custom creations or, at reduced tooling costs, can modify a mold to fit the requirements. Clear plastic boxes are yet another VisiPak clear packaging option and involve no tooling costs.

There are two primary manufacturing plants located in the suburbs of St. Louis, Missouri. The Kirkwood plant operates 10 state-of-the-art extruders while the plastics molding facility in Arnold manufactures caps and plugs as well as producing the thermoformed product lines. Arnold is also the home of the sales and design teams. VisiPak can serve your global needs through manufacturing and distribution facilities in the U.S., Mexico, United Kingdom, China, and Australia. Visit us on the web at www.visipak.com/ VisiPak is a Sinclair & Rush Company.

About Sinclair & Rush:

Sinclair & Rush, Inc. is one of the world's leading multi-processors of plastic components with six companies under operation: StockCap, GripWorks, VisiPak, VynaFlex, Castle Bay and Soffware. The company boasts manufacturing and distribution capabilities on a global scale with operations on four continents supplying over 20,000 customers. By offering products that provide a solution, Sinclair & Rush has earned the status as a premier supplier to some of the world's leading manufacturers. For more information, visit Sinclair & Rush's website at www.sinclair-rush.com or call 636-282-6800.

More from Health, Medical, & Dental Supplies and Equipment