Engine Mounts for Boats reduce vibration at low speeds.
Press Release Summary: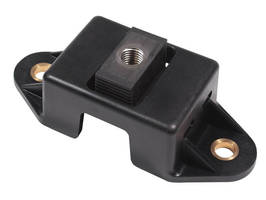 To promote passenger comfort on marine vessels, high deflection (HD) Cushyfloat alleviates excessive vibrations caused by increases in engine power. Rubber compound helps optimize vibration isolation when travelling at low speeds, vertical and lateral buffering limit movement of engine, and built-in deflection gauge simplifies engine installation/alignment. Also available, mini HD Cushyfloat incorporates engineered plastics for corrosion resistance and light weight.
---
Original Press Release:

Trelleborg Cuts Vibration at Low Speeds with New High Deflection Engine Mounts for Boats



Trelleborg's industrial anti-vibration solutions operation has launched two new marine engine mounts – the high deflection (HD) Cushyfloat and the mini HD Cushyfloat – to provide improved vibration isolation and passenger comfort on marine vessels.



Based on Trelleborg's most popular marine engine mount, the Cushyfloat, the new solutions have been purpose-designed to alleviate excessive vibrations caused by an increase in engine power on lightweight hulls.



Specifically, the new HD Cushyfloat is specially developed using a unique rubber compound, which increases its ability to provide improved vibration isolation, especially when travelling at low speeds due to harbor restrictions, for example.



Bill Mortel, Director – Materials and Technology at Trelleborg's industrial anti-vibration solutions operation, says: "When operating at low speeds, the level of unwanted vibration caused by the boat engine increases. This creates a more difficult environment for a standard mount to isolate those vibrations. As such, a specialist solution was required and so our HD Cushyfloat was born."



Vibration is passed through the mount to the rest of the vessel, the amount of which depends on how well the mount isolates the vibrations. As such, the rate at which the mount deflects under the various landing conditions of a marine engine is critical to ensure a smoother, quieter ride for passengers and workers onboard.



Mortel continues: "Vertical and lateral buffering within the HD Cushyfloat's design limits the movement of the engine in tough service conditions. Similarly, it has an interchangeable footprint with existing mounts, which makes retrofit easy and trouble free. Furthermore with an in-built deflection gauge as standard, the installation and alignment of the engine is simplified."



Going a step further from the existing product range, Trelleborg's new mini HD Cushyfloat incorporates the use of engineered plastics. This ensures a corrosion resistant, lightweight product that offers greater environmental protection in harsh environments as well as lower maintenance costs, with no compromise in product performance.



For additional information about Trelleborg's industrial anti-vibration solutions operation, visit: www.trelleborg.com/anti-vibration-solutions.



For additional information on Trelleborg Industrial Anti-Vibration Solutions for rail, marine, industrial or specialist vehicle markets, please call Nicola Quine, Direct: +44(0)1162670422, Mobile: +44(0)7816592888; nicola.quine@trelleborg.com.



For press information:  Sarah Suthers at Stein IAS. Clarence Mill, Clarence Road, Bollington, SK10 5JZ, United Kingdom.  Tel: + 44 (0) 1625 578 578; Fax:  + 44 (0) 1625 578 579. Email: sarah.suthers@steinias.com.



Notes:



Trelleborg's industrial anti-vibration solutions operation and Trelleborg Group

Using advanced polymer technology, Trelleborg's industrial anti-vibration systems (IAVS) operation specialises in the field of rubber-to-metal bonding for the removal of unwanted noise and vibration. Solutions include mountings, bearings and suspension. As part of the Trelleborg Industrial Solutions Business Area of Trelleborg Group, Trelleborg's IAVS operations utilizes over 80 years of experience to provide solutions for numerous applications and environments, with a reputation of high quality, performance and service life. These include rail, marine, industrial and off-highway markets. The company focuses on isolation, attenuation and suspension solutions of unshakeable quality and reliability. The company's commitment and expert polymer technologies create maximum business value through improved longevity, productivity and cost effectiveness, while also optimising comfort, health and safety. www.trelleborg.com/IndustrialAVS.



Trelleborg is a world leader in engineered polymer solutions that seal, damp and protect critical applications in demanding environments. Its innovative engineered solutions accelerate performance for customers in a sustainable way. The Trelleborg Group has annual sales of about SEK 22 billion (EUR 2.48 billion, USD 3.29 billion) in over 40 countries. The Group comprises five business areas: Trelleborg Coated Systems, Trelleborg Industrial Solutions, Trelleborg Offshore & Construction, Trelleborg Sealing Solutions and Trelleborg Wheel Systems. In addition, Trelleborg owns 50 percent of TrelleborgVibracoustic, a global leader within antivibration solutions for light and heavy vehicles, with annual sales of approximately SEK 16 billion (EUR 1.78 billion, USD 2.36 billion) in about 20 countries. The Trelleborg share has been listed on the Stock Exchange since 1964 and is listed on Nasdaq Stockholm, Large Cap. www.trelleborg.com.

More from Explosives, Armaments, and Weaponry