Engine Mounting Systems reduce vehicle weight.
Press Release Summary: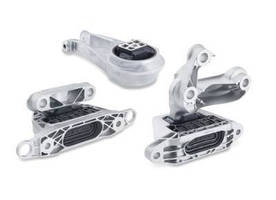 With almost all functional components made of polyamide, hydraulic mounts for 2016 Chevrolet Malibu engine contribute to lightweight construction and thereby help reduce fuel consumption and improve driving experience. Crash-relevant parts are made of aluminum. Current vehicle models can be supplied with 3 engine mounts and their attachments: engine mount, transmission mount, and torque rod support.
---
Original Press Release:

ContiTech New Advanced Engine Mounting Systems Help Chevrolet Malibu Achieve Lighter Weight



- ContiTech engine mounting system reduces weight by about 20 percent

- The components help to reduce fuel consumption and improve the driving experience

- Almost all functional components made of polyamide



AUBURN HILLS, Mich. – ContiTech is backing the current trend for lightweight construction in the U.S.A. with its new, advanced engine mounting systems. The NVH specialist from Hanover, Germany, has supplied the entire engine mounting system for the 2016 Chevrolet Malibu, nominated for North American Car of the Year in the U.S.A. What's unique about the system is that almost all the functional components of the hydraulic mounts are made of polyamide.



The significant increase in high technology polyamide elements has resulted in a weight reduction of around 20 percent in the mount components. "This development shows very clearly that the lightweight construction trend is becoming increasingly significant for the U.S. market as well and that polyamide components have finally arrived in mid-size cars too," says Scott Bykowski, head of Development for North America at ContiTech Vibration Control.



For the current vehicle models, ContiTech will supply a total of three engine mounts and their attachments. These include an engine mount and a transmission mount, which combine to support the drive unit and hydraulically dampen vibrations, and a torque rod support, which absorbs torque. A particular challenge in the development of the new components lay in the nature of the newly developed 1.5 l engine - its smaller size means that, conversely, the engine mounts have become considerably larger. To reduce the weight at the same time, ContiTech developed a completely new design. "We were able to replace all the internal components with much lighter polyamide versions," explains Florian Reinke, developer at ContiTech Vibration Control. "Only one steel component has been retained, and the crash-relevant parts are still made of aluminum because of the limited installation space."



Another benefit - changing to polyamide has also opened up many more options for the designers. It was possible to make the components more detailed, smoother and therefore more streamlined, enabling greater functional efficiency.



Continental develops intelligent technologies for transporting people and their goods. As a reliable partner, the international automotive supplier, tire manufacturer, and industrial partner provides sustainable, safe, comfortable, individual, and affordable solutions. In 2015, the corporation generated sales of EUR39.2 billion with its five divisions, Chassis & Safety, Interior, Powertrain, Tires, and ContiTech. Continental employs more than 208,000 people in 55 countries.



The ContiTech division is one of the world's leading suppliers of technical elastomer products and is a specialist in plastics technology. It develops and produces functional parts, components, and systems for machine and plant engineering, mining, the automotive industry, and other important industries. ContiTech generated sales of almost EUR5.4 billion in 2015 and currently employs approximately 43,000 people in 44 countries worldwide.



www.contitech.de/twitter

www.contitech.de/YouTube



CONTACT:

Antje Lewe

Spokeswoman, Head of Media & Public Relations

ContiTech AG

Phone: +49 511 938-1304

E-mail: antje.lewe@contitech.de

www.contitech.de



Lisa Zangara

Communications & Marketing Manager

NAFTA, ContiTech North America

Phone: +248 393-5486

E-mail: lisa.zangara@contitech-usa.com

www.contitech.us

More from Mounting & Attaching Products