Energy System suits commercial and industrial use.
Press Release Summary: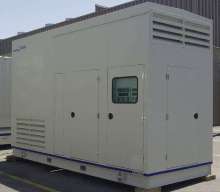 Rated at 156 kW, ENI 155 combined heat and power on-site energy system utilizes pre-engineered, packaged design for indoor or outdoor installations. Product, suited for base load and waste heat utilization applications, supports peak and full load requirements to provide full power in case of utility outages. Waste heat applications can provide chilled and hot water, enabling commercial and industrial customers to offset natural gas and electricity consumption.
---
Original Press Release:

DTE Energy Technologies Introduces the ENI 155


FARMINGTON HILLS, Mich. - DTE Energy Technologies, a non-regulated subsidiary of DTE Energy Co. (NYSE:DTE) has begun deliveries of the ENI 155, a combined heat and power on-site energy system, rated at 156 kW. As an addition to the energy|now(TM) product portfolio, it can reduce energy costs while increasing energy independence and reliability for commercial and industrial customers.

Featuring a pre-engineered "packaged" design for either indoor or outdoor installations, the ENI 155 reduces up front engineering, site design and installation costs. The ENI 155 is ideally suited for base load and waste heat utilization (combined heat and power) applications. It also has the capability to support peak and full load requirements, providing full power in the event of utility outages.

ENI 155 waste heat applications can provide both chilled and hot water, enabling commercial and industrial customers to offset natural gas and electricity consumption. Recognized for low emissions that satisfy the most stringent US environmental requirements, the ENI 155 produces highly reliable electricity for as low as $0.082 / kWh, assuming $5 / MMBtu natural gas, on a full life cycle basis with all maintenance and capital costs included.

The energy|now portfolio of products and services spans electric power generation, waste heat utilization, applications engineering & design, equipment service and maintenance, remote system monitoring and control and custom installation.

DTE Energy Technologies is a leading supplier of integrated on-site energy systems and services, with sales and support offices located throughout North America, and a growing network of distribution partners in Europe and Asia. DTE Energy Technologies has shipped more than 1,500 standby and continuous duty energy systems since its founding in 1998. For more information on DTE Energy Technologies, visit www.dtetech.com.

DTE Energy (NYSE: DTE) is a Detroit-based diversified energy company involved in the development and management of energy-related businesses and services nationwide. Its largest operating units are Detroit Edison, an electric utility serving 2.1 million customers in Southeastern Michigan, and MichCon, a natural gas utility serving 1.2 million customers in Michigan. Information about DTE Energy is available at www.dteenergy.com.

Product Marketing Contact:
Peter Armstrong
(248) 427-2227

More from Mechanical Power Transmission